hurahhhhhhhh my star rating is increase from 7 to 8

India
March 25, 2007 3:12pm CST
hi friend"s, thank"s for supporting without your support this is not possible,before 3 or 4 days i am come in depression because my star raring is going to decrease it became 7 to 6,but last days it again come too the 7 star and today it going to be 8, it means my star rating is increase 1 daily. thank"s friend without u it is not possible . bye
10 responses

• Pakistan
25 Mar 07
Hey congratulations on that acheivement buddy. And i really hope that you make it to the 10 rating as soon as you have made it to the 8th. Actually, this is basically the rating from the mylot population, and so, i would say, it's bound to fluctuate. Although basically, the trend is always that the star keeps rising, however, for the past few weeks people have started rating negatively for no reason, so as to kill the star positions to lower values. Hope you best of luck. Congrats again!

• India
26 Mar 07
I could imagine your happiness with reagrd with star rating bcoz i was so eager to see my star rating increase from 7 to 8 now.iam really happy that some of my responses and topics are marked positive by mylotters which lead to this reputation mark.best of luck for you to reach 10 at the earliest.

• India
26 Mar 07
hey thats what friends are for. You help me, I help. see I have done my part to respond to your discussions and rate your discussions , so now its your turn to help me out, respond to my discussions and dont forget to rate my discussions as well as responses.

• India
29 Mar 07
hey friend i like your post ,you are a prefect professional.

• Philippines
26 Mar 07
congratulations on your star rating. keep it going well and good modernindia. :)


• United States
30 Mar 07
Congratulations my friend and all the best for the future. My ratings are dropping day by day. Moreover I am busy so not getting more chance to be on mylot. So I am not able to increase it also. :(

• United States
30 Mar 07
Yeah...congrats! Just keep on doing what you were doing and try not to irk too many people and you'll be in good standing. *lol* I guess I keep irking someone because my ratings go down faster than they go up. I was at a 96, then two days later I was in the mid 80's. I suppose religion and politics are not great subjects to comment on when you've got so many die-hard believers. I'd like to tell them, "can't please everyone".

• United States
30 Mar 07
Well good for you that is great keep up the good work. What did you do?

• India
26 Mar 07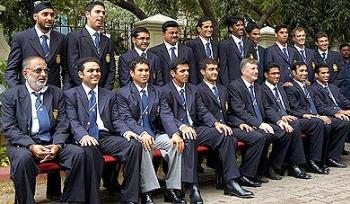 Heyy congratulation . Great , I lost one star ranking due to a contraverstial topic and discussing strongly with other members. Keep the good work and don't try to get in any personal discusssions . Hope to see you on 9 soon. 10 is also not too far. Take care , keep good work .

• United States
25 Mar 07
Congratulations for making it up to 8; however, I think to truly enjoy MyLot, none of us should spend too much time thinking about ratings. Instead, I have learned to find the topics I love (usually writing, movies, politics) and focus on enjoying the conversations there. As long as you are respectful to people, state your opinion clearly, and try to be as helpful as you can when you can, I think you will succeed. Good luck!

• India
29 Mar 07
thank"s friend for this lovely opinion .