continuous ink system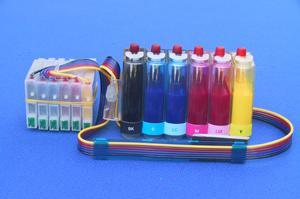 Philippines
March 25, 2007 5:03pm CST
our company sells and supports the continuous ink system. its almost the same as regular refill inks. difference is that the CIS system has a separate tank to refill, instead of the regular per cartridge refilling. now, i would like to hear from you guys what you think about the CIS system.
2 responses

• United States
25 Mar 07
It sounds great, but I don't understand how it works. If my printer runs out of ink, I would have to have a replacement cartridge in the carriage before it would print another page. Do you have to have a special printer to use your system?

• Philippines
27 Mar 07
currently, epson printers are the most used printers for cis. you don't need a special printer. regular epson inkjet printers are fine. a small device is plugged in the printer replacing the original ink cartridges and is connected to a tank outside the printer via hoses. in case you run out of ink, you just need to pour ink into the tank, and not in separate cartridges like regular ink cartridges. see the image so you'll have a better idea.

• Philippines
10 Jan 08
The best, cheaper and many project you can make, you can earn once you have this kind of cartridge.