what is the name of your first pet?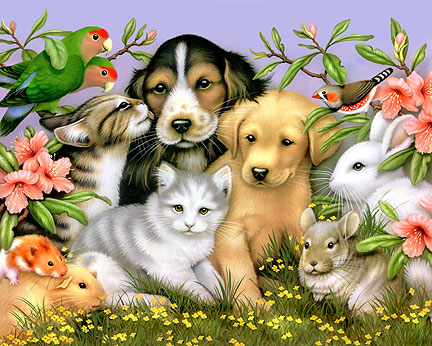 Philippines
10 responses

• Philippines
26 Mar 07
this evokes nostalgic memories. my first pet, that i could remember of we called him "tulin" which means speed. he was a male regular white dog. i was 7 or 8 at that time. he was really like part of the family - eats the same food we eat, romps around our rooms like us kids then. my mom & my bros always made sure he was cleaned all the time. he was always a happy dog, plays with us kids a lot too whenever we were at the backyard. we also bring him a lot during outings. then just one night, vivdly i could still remember, "tulin" was fidgety & howling a lot, i could not know why then but my mom got irratated & had scolded him badly, which later she sent him out of the house. we never saw him the following day. my mom felt bad, she felt she was one to blame for "tulin" being gone. days passed by, we were always lookin out the window, lookin at our backyard, frontyard, the pavement near our house anticipating that he is back, maybe somewhere around the corner. everytime we hear barkings, we would almost cry out & sometimes murmur "hes back!" but sadly "tulin" was never to be found or heard again. we never really knew why. even to this day whenever me & my brother kinda reminesce it, it evokes sad memories. and even to this day its a taboo subject in front of my mom - even so 25yrs after.

• United States
26 Mar 07
My first pet was a wounded (disabled) mongoose. He was named as ricki. Even today I miss him a lot. He was very smart guy. I can never forget him.

• Philippines
26 Mar 07
cool! never had a mongoose for a pet before.. thanks for the reply!

• Canada
26 Mar 07
Our families first pet was a dog when I was 8. Her name was Pepper because she was salt and pepper colour. She was a miniature schnauzer that we got as a pup. She lived until I was 20 (12 years).

• United States
26 Mar 07
My first pet was a duck, and I do not remember naming. I was a afraid of him. Then I had a cat. He was an orange-haired cat with yellow eyes. I named him Charlie Brown. He was a cat about town. He was always chasing female cats. He loved to sleep on top of the freezer.

• Aruba
26 Mar 07
My first pet was a Dachshund "Wiener Dog" his name was "Indio"



• Philippines
2 Apr 07
what animal would "pump pump" be? heheeh! thanks for your reply!


• Philippines
26 Mar 07
when you say it's a toy poodle, it means it's not a real poodle?!? hehehehe! thanks for the reply!

• Philippines
2 Apr 07
When we left Manila and relocated to Davao City, our first pet was a dog. We named her Fabie, taking the name after my aunt who gave it to me as a gift when my mom and I visited her. She was beautiful and had brown fur.

• Poland
26 Mar 07
My first pet was a female hamster named "Kuleczka" - it means "a little ball" in English. She was a little, soft, lovely ball in my eyes:) I remember, that I was crying a lot watching her photos when she passed away. I was about 11 or less years old. I have had many pets, but I remember all of them quite good.