friends in love

Philippines
March 26, 2007 4:24am CST
Have you ever experience falling for a friend? Its good to see bestfriends-turned-lovers but sometimes, they refuse to fall for each other. Is it really okay or not? Will you stay as friends or take that big leap for the next stage?
7 responses


• India
28 Mar 07
i think its the best experience which i have. Me and my hubby were just gud freinds before 6yrs. After some years we realised that there is something more between us except friendship...and really it is best to have a lover who is ur friend too. Now after 6 yrs of luv-friendship relation we are happily married, and still we feel that friendship exists and that gives us best support.

• Philippines
27 Mar 07
bestfriends turned lovers?y not?the best foundation of relationship is friendship..but you need to consider some important things.it is too risky.what if youre relationship didnt work out fine?will friendship will go back as the way you've started?and if you'll not take the risk?how will you know if it will work or not?.. whatever path you may take,either u became lovers or stay as friends,always remember that the strong foundation of love is friendship...

• United States
26 Mar 07
I honestly think it depends on the two people, their maturity levels, and the strength of their friendship. Are they mature enough to let the past go if things didn't work out, and remain friends? And, are they mature enough to respect each other as equals in a life partner relationship if things did work out? As for me, I did fall in love with a friend. I fell in love with my best friend, and he fell in love with me. For us, it worked out. I married my best friend. And, that's the way I had always imagined it. Both of us weren't afraid to take the next step because we knew our friendship was strong enough to withstand anything. Now, we know that our marriage is strong enough to withstand anything.


• Philippines
26 Mar 07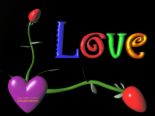 I haven't experienced falling for a friend but my best friend did and still is. She took the risk of telling him about her feelings but he just want to remain friends, good thing the awkward feeling is now over and we're a happy group once again. I do wish they'll be boyfriend-girlfriend in the future because they look so good together, they also help each other when something goes wrong. But for the meantime my best friend is happy that he's still hanging out with us.

• Malaysia
26 Mar 07
yes i did experienced falling for friends. so many times. i think it was just not right as i didnt want us to be apart once the relationship is not working for us. it will be awkward to have the "after breakup" feeling as we used to be best buddies. so my advice is say no to ur best friend in having a love relationship.