Fire Rainbow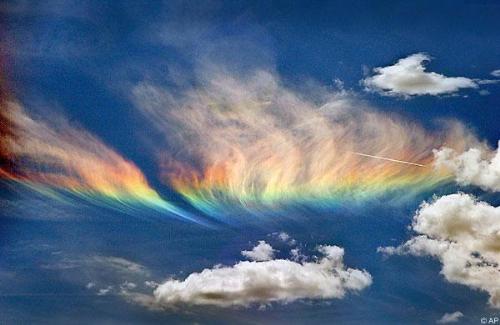 Lebanon
March 26, 2007 6:19am CST
This is a fire rainbow - the rarest of all naturally occuring atmospheric phenomena. The picture was captured on the Idaho/Washigton border. The event lasted about 1 hour. Clouds have to be cirrus, at least 20k feet in the air, with just the right amount of ice crystals and the Sun has to hit the clouds at preceisely 58 degrees.
5 responses

• Philippines
26 Mar 07
Wow, I've never seen this phenomena my entire life.. When did this happen? I've seen long stretch of rainbow but never like this. Does it have to be that precise when all those things happen in order to create this fire rainbow? It is so nice..

• Lebanon
28 Mar 07
I'm so glad you liked it, I don't know exactly when it happened, but it really looks good.


• Philippines
9 Apr 07
Wow . that rainbow fire is the nicest phenomenom i have seen and it is the first time i heard of rainbow fire. It sure is realxing to see.. I hoe i can see one too. NIce picture dude. i really like it. rare post but interesting.

•
29 Mar 07
That is really beautiful. Thanks so much for finding it and posting the pic. A rainbow (well ice crystal bow) circling the sun like a halo I have seen and that is pretty impressive but fairly common.