do you WANT to have a PLASTIC SURGERY if given a chance??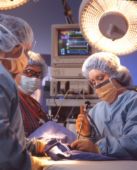 Philippines
6 responses

• India
28 Mar 07
I am happy the way I am though my skin is all blotchy due to pimple marks that I would lovwe to get rid off but its okay as long as my hubby doesn't mind that. May be I might go for skin grafting if given a chance ever. my face looks all bad due to that.

•
26 Mar 07
No I will not go for plastic surgery because I don't like the idea of having unecessary operation on myself. When I'm older I should wait and see how I'll turn out I might look ok you never know. But If I look a lot older then I should I might consider botox, but never for surgery..xx

• United States
26 Mar 07
I'm honestly satisfied with my looks and I have a sense of well-being, so even if someone offers me free plastic surgery, I wouldn't oblige. I think one of the reasons is because I'm afraid of the operating table. I had never undergone surgery of any sort on me in my entire life. That, plus the fact that I'm quite content with what I have now, are the reasons why I never entertained the thoughts of changing any part of me via surgery.

• Russian Federation
26 Mar 07
I will not try it,Because i just know that God has just created me so perfectlly.I will not be that ungratefull servant,that does not thank his master for little thing.This make his master suffer him the more.


• Pakistan
26 Mar 07
I wouldnt go for plastic surgery but i would surely go for liposuction to get rid of few stubborn pounds on my stomach! I dont know why people associate plastic surgery with morality? Has God anywhere said that you cant strive to improve your appearance?