What Do You Think About The New Forever Postage Stamp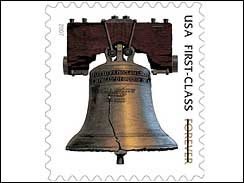 United States
March 26, 2007 12:25pm CST
I just read where we will now have a forever postage stamp with the liberty bell. What I don't understand is why they are making a big deal out of this stamp? Like all our other stamps when the price increases so will the price of this stamp. What is so different about this stamp and do you like the picture they chose?
10 responses

•
26 Mar 07
Ah, I came to know about this stamp and it's speciality only from your discussion.That is a nice move by your government.Why didn't they think of this before ? lol I think they wanted to earn more revenue.It would be nice if all the stamps were forever and didn't come with a price stamp that keeps changing and the previous stamps are wasted,but government has to fill in the treasury too,lol.

• United States
26 Mar 07
The way that I understand it is that this stamp can be used even if the price has gone up, without adding extra postage to it to make up the difference. If so, then it is more valuable to have this stamp because it can be used as a first class stamp even though you might have paid less money for it if the prices have gone up since it was purchased. I haven't seen the picture of the stamp.

• United States
26 Mar 07
The difference about this stamp is; if you buy it now, when the price goes up you can still use this stamp without paying any extra. It is good forever at the price you bought it. Say you buy 100 of these stamps and the price goes up 3 or 4 times as long as you still have some of the stamps you already bought, you can still use them without buying extra postage to put with them.

• United States
27 Mar 07
I love the idea of this stamp! No matter how little I buy, I always seem to end up with extras when the price changes. I find it really irritating that I must then buy 2 cent stamps before I can mail anything.


• United States
27 Mar 07
I have not yet seen this stamp. I was at the post office yesterday. I will be there again today. I will ask to see it today. I would think it is do to the fact that it is the liberty bell. We have had a lot of changes in this world. I would not mind the bell staying the same.


• United States
27 Mar 07
Since I started paying all my bills online and emailing friends I hardly use them anymore. I just finished some I still had left from before the last time they went up in price.

• United States
11 May 07
I like forever stamp idea, because I used to go to post office to buy 2 cents stamps...I get rolls of 37 cents stamps to use when they change it for 39....so I end up sending it all from the post office...

• Janesville, Wisconsin
11 May 07
So this stamp is already out? My Grandma is always harping about the 2 cent stamps etc... So if this stamp is out. I bet that would be a good gift for my grandma, one less thing for her to harp about. :) . The word forever is kind of strange as no stamp ever last forever, and liberty bell.. well I guess it means freedom from the extra stamp.. it's okay with me.. - DNatureofDTrain