In a delemna..... what to do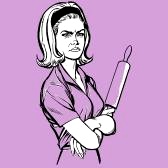 Philippines
March 27, 2007 7:29am CST
I applied for a job with a company that is a competitor of my husband. He went into a fit, because he said it would have conflict with his job. His position is administrative and I was applying for a lower position in his competitor. He said he would be the laughing stock of the company that I'd applied for since they would wonder why I did not apply in his company. My reason is I don't want to work in a company together with my husband because I feel uneasy and uncomfortable with him around. I feel I could grow in a company were I am comnfortable and at the same time I know I am capable of the job. He said it's degrading for him since the two companies are really tight on competing with each other... I want my friends here in myLot to give me their opinion and advice if what I did was wrong. I feel insulted, angry, frustrated because It is my right to look for a job that I want and choose. I am so tired and fed up staying at home when i am still eligible to find work. Please I need some opinions and comments from my friends here... grrrr....
5 responses

• Portugal
27 Mar 07
There's nothing wrong on working in a competitor company a job is a job and life together is private they dont mix itself. I also wouldnt like to work in the same place where any mamber of my family would be. If you have a chance of get a job, do it, its your personal life and your husband should be happy for you by knowing he has someone in the house that can be smart enough to work and provide some extra money in the house, for having a capable person beside him. If a job will make you happy, go for it and good luck.

• Philippines
27 Mar 07
That's the hard part he was mad at me for applying there. He feels it's an insult to his position that I apllied as agent only. Every one in his company considers him second in command to the boss. And he said what would others people think... blah,blah, blah. He said it's company policy to inform them if any spouses work for a competitor. It's a disclosure... and I don't know what it means.. sigh..

• United States
30 Mar 07
I am sorry, but I have never heard of any company asking it's employees to disclose the work place of their spouses. Sounds kind of fishy to me. But then, maybe he is telling the truth. Personally, it sounds like a tactic to get you to stop trying to get a job at that particular company. I mean, did he tell you this before or after he told you that his co-workers would laugh at him? My hubby thinks that your husband is just afraid of how things might change. My husband told me that while he wants me to be happy, if I got a job it would change the whoel dynamic of our family and the routine our son has gotten used to. I can see his point, but people can adapt to change if they are willing to try. Maybe your husband is just too afraid to admit that he is scared of how this may change things at home.

• Philippines
4 Apr 07
Hi Vokey, the disclosure was actually included in his contract, ha,ha (I read it to make sure). And I think he also worries that if I work full time I won't have time for our kids and home. Since when I am stress out or really tired I'm like an ogre(literally). But as you said, pepple can adapt to change if we put our minds to it. If they can do it why can't I... right??? (",)

• United Kingdom
31 Mar 07
No you have not done wrong and I think your Husband needs to respect you on that matter it never works when you work for the same Company, why would it make him the laughing Stock? As far as I can see it from this en, you did the right thing there and don't let him tell you otherwise You go for what you want to do and where you want to work Good luck on your new Job Sweet

• Canada
30 Mar 07
Hi Sutan, I would say that this has nothing to do with your working for a competitor, but it is all about power and control. from appearances he has control right now because you are the good little woman staying at home looking after his children, How possessive can you get? My feelings are you are entitled to do what you desire, that being said,that is a very insightful statement because you are the one that has to live with the consequences of your actions. and I have no idea what your life is like, and it would be foolish on my part to suggest such a move, I believe that you probably will have to make some decisions in the near future, but if you can get to the root of your husbands insecurity's, ( otherwise why wouldn't he have asked you to join his company long befor this) and his trying to control you, Has he always been like this or is this entirely new,? As for his feelings he is just using those to try to control you, again with the insecurity, but they are his feelings and fears and he needs to deal with them. I would also tell him how his reaction to you working for his competition is affecting you, being angry insulted and frustrated is what I believe you said, this is not good to have these feeling about your spouse ever, I honestly believe there is a whole other story under the one he is giving you, and until you know for sure you will be fighting about something that is not even real. Sorry I have wandered a bit I hope you can understand what I was trying to say. Robin

• Philippines
4 Apr 07
Ooh Robin, I am always happy to see you reply in this topic. You are truly wise and have the insights of a woman who has made it through the years. Yes, something deeper is involved here but i don't want to get into the details. I get your point and I know the depth of this problem. I've made a compromise with my husband and I told him I won't get this job but applied for another that suits me as well. And I'd get to hog the computer morning till night. So as you can see, I'm still victorious in this battle of ours, ha,ha. I truly love and thankful for your advices, please drop by always... thanks...so much.. God bless..(",)

• Philippines
27 Mar 07
Hi, sutan74. I think you should talk it first with your husband. But then, you should give way to your him. Wouldn't it be nice if both of you go home together and share same things with regards to friends and bosses? Your husband is your family. You married him. It's already a plus factor that both of you can work. I suggest that you try it out in 6 months to a year, maybe. Then if your husband finds it that your point of view is correct, with regards to your being uncomfortable, then I'm sure he'd let you try another one.

• Philippines
27 Mar 07
Thanks for this advice. I told him why in the first place did he offer me a job in his company. He replied that I can't find work in the supervisory level since I'm not qualified. He really has a big problem with the positions involve. He is embarassed if I work as an agent and he is the boss. So he feels I'm much better off staying at home but I really want to earn my own money.

• United States
27 Mar 07
First off, the only conflict with his job would be if HE was working at the competitor. Second, most company do not allow spouses to work together as it can cause lots of problems, especially if one spouse is in a position of power as your husband is. You have the right to work anywhere you want to work regardless of where your husband works. Why would his co-workers laugh at him? Does he tell them every little detail of his personal life? Also, why does he care so much about what they would think? It is in no way degrading to him for you to work at his competitor. If he has a problem with it, well that is his problem. You do not need his permission to work anywhere. If the right job for you comes along, regardless of where it might be, he should be happy and supportive of you. It sounds to me like he just doesn't want you to work. Maybe he is afraid that things will change too much if you go back to work. You have to do what you think is right in your heart. Besides, you were just applying for the job, it's not like you actually have been offered the job yet. He needs to just chill out and be a supportive husband and stop being a jerk about it.

• Philippines
27 Mar 07
Hey vokey, you really hit me there. Yah, I was kind of wondering myself why he cares so much what other people will think. He really has a BIG problem, I was thinking I don't need his permission but out of respect to him since we are living on the same roof. Look what happened..... whew. Maybe he just want me to unproductve and saty stagnant as a wife and mother to my kids. Ohh, I just hate him so much now... Thanks for your kind and thoughtful advice.. and exactly I was not even offered the job I was in my first stage of initial interview.. lol ( rolling my eyes)...