Who would you vote for Man of the Year?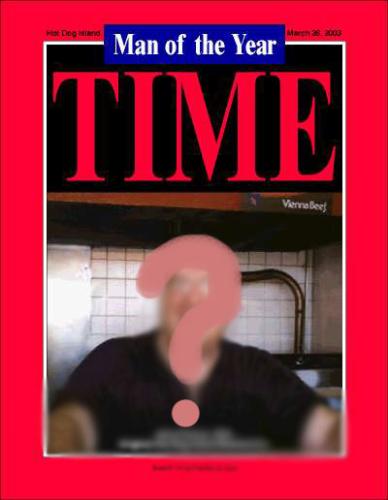 Philippines
March 27, 2007 10:29am CST
If you were given a chance to vote for someone who you think deserve to be called man of the year, who would it be? Man or woman applies, what would be your reason in choosing him/her? Anybody will do.. Any achievements will do, it's your choice to vote here..:)
4 responses

• India
27 Mar 07
I will vote for Bill Gates of Micro Soft company as Man of the Year. He has done so much for computers, which has become a necessity for men as well as companies. Apart from this he is spending so much for social causes like Sunami affected areas and people, and if I am correct, for Aids cause also.

• Philippines
28 Mar 07
Not bad, I'm sure he's someone who should be nominated. I don't know much about him but I know he has lots of achievements that really helped out other people.. He's one great person, a man with a generous heart as well as a brilliant mind.. :) Thanks

• United States
27 Mar 07
I would vote for my guy ( cheesy, I know) but he does everything he can for us. He works all day, and sometimes weekends, just so I can stay home with the kids. He provides for us, and does so not because he has to but because he wants to. I offer to get a job, and he says no need because he knows I truly want to be with my kids. He sacrifices so much for us. And he is and always will be the man of the year to this family.

• Philippines
28 Mar 07
Hey there, it doesn't sound cheesy because I would probably vote for mine as well if given a chance. Wow, you're blessed to have such a wonderful man, he's just like my dad.. I do hope you will have much more happiness in your family's life.. :)

• United States
27 Mar 07
I would vote for Angelina Jolie. Not only is she an incredible actress she has used her fame and money to promote awareness on several issues and make a difference in peoples lives. I really admire her for not basking in her "Hollywood elite" status, but using it for good. I love her.

• Philippines
28 Mar 07
Wow, she's one of the few person that I really admire.. :) Yeah, she's not the typical actress that just wasted her fame instead she helped out other people. Actually, you know what, I wanted to be like her.. The difference is that is so pretty and an award-winning actress, which I'm not.. lol Thanks.. :)

• United States
29 Mar 07
If I could, I would vote for my dad as the man of the year. The lengths he has gone to help me through difficult health situations is amazing. No matter what the outcome, he always tries to do 'right' by me. If we are talking about famous people for Man of the Year I would vote for the rich business man in Hawaii who gave out million dollar mansions to homeless people there in Hawaii, just recently.