cats... do they help you in a way?

Philippines
6 responses

•
31 Mar 07
Since getting my cat a few months ago i feel like my whole life(style) has been enhanced by having her here. I always look forward to getting home from work so that i can see her and give her lots of fuss. She's always there ready and willing to be cuddled if i need some comfort, and she really makes the house feel like a home. She's wonderful to have around, no trouble at all and really fun! I love her to bits!

• Romania
30 Mar 07
well my cat acts like an alarm sistem around the house ...if a hear a starge noise or something ..and don't actaly know where is tah coming from ...i just look at my cat ...she is ALways on that Direction . If someone is at the door ...she's there first ...:))

•
28 Mar 07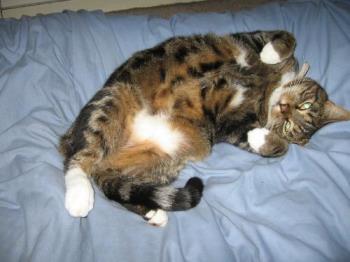 My lovely cat Moomin walked into my life last year and since then she has made my life so much happier. She is there when I am sad or down, she cheers me up and keeps me company. She is always willing to listen to my troubles yet never judges. She is loving and affectionate, caring and entertaining. Yes, cats definitely can enhance your life.

• Romania
28 Mar 07
when i have a problem and i go home she came and i forgate all my problems.yes she improve my lifestyle. without her i will be very sad .she is like a chial in house and she is all time smoll chiald.this i like very much.


• Canada
28 Mar 07
Yes, I do. Only one at the moment (I had to have my other one put down in November, and I'm not ready yet for a new one). Why do I have them? Because I love them. They're funny, and entertaining. They're beautiful to look at. They're comforting and loving (sometimes). They're independent. They have attitude. They're hedonistic. They live in the moment, and model a wonderful way to approach life - which is an attitude of "this is the _best nap ever_!" Do they improve/enhance my lifestyle? Yes. Because they give me pleasure and comfort - and I give them food, access to sunbeams, soft places to sleep, and a lap when they want to be cuddled. They're great.