Do you have a Schwans delivery person?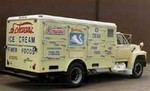 United States
March 28, 2007 9:03am CST
Schwans is a company that drives around town and delivers various foods to your doorstep. I believe they started as a frozen food/ice cream vendor that would stop by regularly at homes. Now they carry so many items it's amazing. Everything from ice cream to veggies, cakes to entrees. Even frozen meats and convenience foods are available now! Do you have a Schwans man? I love their stuff and even most of their prices aren't too bad. Some things are overpriced but others aren't bad at all and I've never had a low quality product from them.
8 responses

• United States
28 Mar 07
I love Schwans and I have a delivery person come every two weeks. I agree with you that as long as you skip the overpriced items, you can get a decent deal. I like their frozen veggiesand bread dough. My favorite item though would have to be the Quik Bake French Fries, so fast and so good!

• United States
29 Mar 07
Oh, I will have to try the fries!!! I was looking at them and wondering. I do think that most of their veggies, fruits, etc. are great quality and well priced but their convenience foods are a bit hefty for the most part. I also think their ice cream, while a little pricier, is absolutely wonderful and worth the extra money if you're eating just ice cream. I still buy the store brand tubs for smoothies, etc. as it doesn't make a huge difference when you're using it for drinks.

• United States
1 Apr 07
You should try them they are really fast! I agree with you that the ice cream is sometimes worth the price. Especially the ice cream bars and pops, they are about the same price as the ones at the store. They just look more expensive because you are buying a larger box of them. Thanks for the best response :)

• United States
25 May 07
Our Schwan man is pretty nice, he has on ocassion gave us free boxes of Ice cream and we shared it with the kids all around. When he pulls up we all get together and order stuff so he leaves with alot of our money tucked into his belt. We have no children but we are always buying for the kids in the whole holler so maybe that is why he gave us a free box every now and then. And the kids love when the schwan man comes because that means ice cream for them..


• India
25 May 07
We dont have Schwans in our country bt i know about it very well. i know they have a big van or a bus or whatever you say, and they are having sections inside to store , food items like veggies, bread, poultry, eggs and all that plus, bakery item like dough cakes, ice creams and all that. it is very nice and i presonally feel that if i'll grow rich one day i'll also set up such a van which moves all round the places delivering the best of food and eatables in the best of prices, in comparrision to when you have to travel and go far to buy something. if something if brought to your doorstep and then you are buying it, then i feel it is a bit cheaper only because you dont have to are not moving out. your going out also cost, which is cut here. it is a good thing, i must say.

• United States
25 May 07
It is a great concept and I'll tell you, with the price of gas anymore I'm thinking it could even possibly save some money instead of running to the store.

• United States
3 Apr 07
My husband and I never knew how to get the Schwan's man to come to our house, but they have amazing Sundae cones and so on his way home from work a few weeks ago my husband saw a Schwan's man exiting someone's home and asked if it was possible for him to swing by our house. He gave my husband a catalog and stopped within a few minutes. We love it! I love how many recipes were in the book and the list of things to purchase to make the recipes ... of course they're almost all Schwan's products, but you can fudge on things!

• United States
25 May 07
You can also order online so he has the order made up and ready for you when he delivers. It's nice. I think you can do it without even paying online too. I can't remember for sure though.

• United States
1 Apr 07
We used to...the higher price was worth the convenience. They used to have peanut butter stuffed pretzel that my son loved and the only way I ate salmon was their Salmon patties. I used to used their Minestrone vegetable mix tossed into tomato soup for a wonder satisfying soup. They also had some great ice creams...mmm...u made me think..I do miss him ...I mean his food.

• United States
25 May 07
LOL.... your comment about missing "him" reminded me of this one schwans guy we had that was creepy as all get out. He would make the weirdest comments and stop by on days he wasn't supposed to just "to say hi". I finally got so creeped out by him that I stopped answering the door. LOL He finally quit coming.

• United States
28 Mar 07
The problem with Schwanns foods is that they are too expensive for my pocketbook. I just can't afford the luxury of having them deliver to my door. My cousin loved them and would buy from the frequently. She told me of how good the foods were. But, as I am pinching pennies, this is one thing I have to pass up.

• United States
28 Mar 07
Some of their stuff isn't too badly priced. For instance, their ice creams and novelty items (fudgesicles, etc.) are well priced usually. Also their frozen veggies and fruits are pretty reasonable too. But I can understand because I often will find myself buying things I shouldn't, just because it's easy to grab now instead of going for it later. I'd probably be smarter NOT to use them too.. but I love their stuff! LOL

• United States
25 May 07
Yes we do and we love all of the food. The ice cream is so rich and creamy it is do die for almost..lol and the breaded mushrooms and all the other goodies are irresistable. Yeah I agree about the price thing some prices are pretty reasonable and others are kinda high but worth it and plus it comes righ to your door instead of you going to it. Gotta love them!


• United States
25 May 07
My Schwas man comes to our office building every two weeks. We gave him access to our buildings break room. He will duck his head in my office door to let me know he is there and I will page 1 person in each office to spread the word. We have 2 refrigerators in there and some weeks when he leaves the freezers are packed. This sure is convenient. Have you tried the Chicken Enchiladas yet? My boss turned me on to that and wow is it ever good with big chunks of white meat chicken. I like the chicken casserol also. I don't buy meat like steaks from them, I can get it cheaper at the grocery store. Schwans salmon filets are really good too.