Tree Cat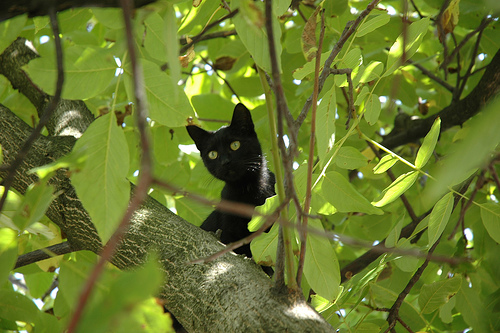 United States
March 28, 2007 7:54pm CST
I was watching an episode of Ripleys Believe it or Not today. This man has a tree outside his yard with a cat that has lived in the tree for 3 years. The cat has not come down ONCE. Every morning the man brings the cat food. He even built the cat a little house in the tree. One morning the man saw a little kitten living in the tree with the cat, so he made a house for him too. It was the cutest story ever, I had to share it!
3 responses

• United States
29 Mar 07
that's an adoreable picture :) i wonder why the cat chooses to stay up there? it's very nice of that man to build a house for them. i'd be looking for a 3rd cat if a kitten is now up there also.

• United States
29 Mar 07
I love that picture also! I think the show said something about he stays up there do to a lot a tramatic experience. They said some dogs might have made it run up there. Poor kitty.


• United States
29 Mar 07
Haha You are right, you don't want to be walking under the tree when the cat goes!

• United States
29 Mar 07
That really is a sweet story, and thanks for sharing that with us. Well, the cat was safe from humans and dogs up there. Cats are bright. New a good thing that it had, and such a precious man to feed it and make a little house for it. Bless his heart.