Family feud?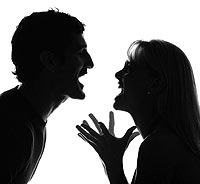 Philippines
March 30, 2007 3:27am CST
Have you ever experienced a family feud. An argument that left you and your siblings scarred emotionally. Did it ever occur to you that this could happen? where you able to go through it and survive. Did you and your siblings eventually patch up or did you prefer to leave things unattended and let time take its course? is you have share your experiences.
1 response

• India
30 Mar 07
Actually my parents very rarely fight each other nowadays.If they even go into heated arguments any of us will interrupt them and request them to maintain silence.They respect our words and go off. but i have noticed the same parents with wild arguments when we were kids.but never a situation has come so terrifying for me or my brothers.they will simpley shout and seldom talk to each other for a week or so.We will act as mediators for them.It will get solved at the earliest.