which among the two?

Philippines
March 31, 2007 4:44am CST
friendster.com or myspace.com?
2 responses

• Philippines
9 Apr 07
i don't have a myspace account but i do have friendster. myspace seems to be very popular but i have 700+ friends in friendster already and i don't want to leave them just like that.. it's already hard to maintain my friendster account, so i don't think i would be able to manage myspace as well.

• Philippines
9 Apr 07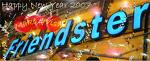 My girlfriend maintains a friendster account with me as her guest. All my friends are also logged in the same account. We haven't used myspace.com..., is it like friendster? I'll check it out later but if I'm suppose to choose, I guess I'll have to stay with my GF's account in friendster. I don't like having to maintain numerous sites:)