The last day of your life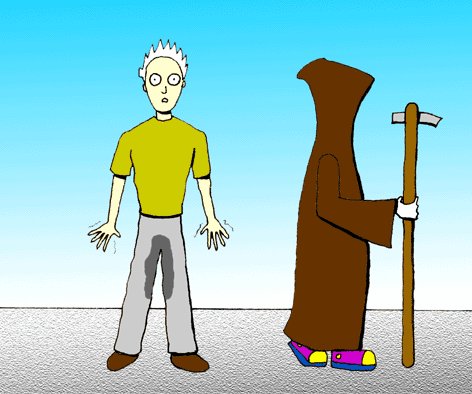 Antarctica
March 31, 2007 9:33am CST
What would you do if you knew one morning when you wake up that this is the last day of your life? Would you try to correct all your wrong doings toward other people? Would you try to go out whit a big bang? Would you sit at home and moap around til that time came? I personaly would visit everybody i now say good bye try to resolve all my problems wouldnt want to go and still have some unfinishd bussnies after that i would go take a walk in the forest and wathct the sunset one last time and have a big meal whit everybody i now.Then i would peacfuly wait til the moment came.
7 responses

• United Kingdom
27 Jun 07
If it was the last day of my life I would be phoning my parents up to say how much I loved them, my friends to thank them for putting up with me, I would be eating and stuffing as much chocolate as I could eat and I think I would have a big gamble in the casino, I would go out in style and make the last day of my life the best!

• Sweden
14 Jul 07
Hi friend, Well, if the last day are in front of you there are not much to do. It´s more about the minuts to spend with your love once. Talk about things you´ve done together. I personaly would listend to music and just take the day at it is with my love once.

• India
14 Jul 07
This is one question i gave a real thought. I almost spent 10 mins writing down striking out and i just wanted to arrive at one situation. But i can't. So For one last time i shall pay a visit to the girl whom i loved and loves still. Visit Lord Venkatesa (Hindu diety) and spend the rest of the day with my dad and mom.

• India
12 Jul 07
i would like to spend the remaining time with my wife and my daughter alongside me. due to busy official schedule and lots of tours, i really long for spending more time with my family.

• Philippines
30 Jun 07
It's a hard decision but I think if that time came, I'll just spend the day with my wife and my son. I'll tell them how much I love them. No apologies, no frustrations, no I-should-have's. I'll just make them feel that Im very happy with them. Then at the end of the day, I'll just be in my room trying to remember everything that happened to my life.

• China
30 Jun 07
If it is the last day of my life,I will tell my parents how much I love you,my friend called, don't dare to do before the horror movie,think before happy or unhappy,let me happiness or sadness of the people.

• Pakistan
30 Jun 07
well the last day hmm , i would go and apologize to everyone i have ever hurt, then i would go tell my loved ones that i really love them then ill arrange a party with my friends and enjoy my last moments with them , then i will just wait for the last day to end and after which i would be no more.