what are YOUR INTERESTS and HOBBIES???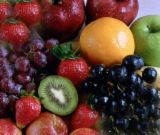 Philippines
April 1, 2007 1:53am CST
I just want to know you more. One way to gain friends is to know ones interests and desires. Currently, I'm so addicted to fruits. I just love to eat any kinds of fruits these days. Well, I think that's good enough because I want to stay as healthy as possible. How about you??
3 responses

• Sweden
6 Aug 08
My interest is meeting people around the global that why i always here in the site looking for nice people and can possible be friend even how thousand miles away.I like babies a lot but for now i will not have baby coz study is my first goal.My hobby is surfing internet i think all people know about computer except babies,Singing in karaoke filipino is born like that many of us have a really nice voice.Learning people´s life and point of view.listening music it my fashion coz i thin if i cant listen muscis it is my very boring day.Have a nice day.

• Philippines
1 Apr 07
I love fruits! I'd love to go on a fruit diet if my budget would permit me. But the thing with living here in the Metro is that fruits are so expensive. I especially love mangoes. And recently I've been craving for watermelon since the weather has begun to grow hotter this summer. And fruitshakes! I just can't get enough of fruitshakes!