Happy April Fools' Day Everyone!!!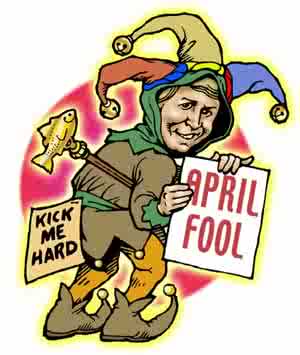 United States
April 1, 2007 8:35am CST
April Fools' Day though not a holiday in it's own right, is a notable day celebrated in many countries on April 1. This day is marked by the commission of hoaxes and other practical jokes of varying sophistication of friends or neighbors, on sending them on fools errands. The aim of which is to embarass the gullible. In some countries April Fools' jokes, are only made before noon of April 1st. It is also widely celebrated on the Internet. This is according to Wikipedia. So to everyone April Fools' Day. Have fun and be a good sport. You get to be a fool only for a Day.
1 response

• India
1 Apr 07
Happy April fools day to you too! It is quite an interesting day, though I don't know about it's origin. I have had my share of playing pranks and have been the victim to many of these pranks over the years. Last year, I advanced my room-mate's watch by a whole hour. He usually sees his watch in the morning and goes back to sleep if there is more time. I jogged him awake in the morning and he looked at his watch to see the time, woke up cursing himself, hastily brushed his teeth and literally rushed through his bath and rushed to the canteen downstairs to grab his coffee and breakfast, and only when he reached there did he get to know that something was amiss! When he got to know the trick I had played on him, we was mighty sore about it, but took it pretty sportively!