Is your cat an over the top purrer? is this normal?

Australia
April 1, 2007 9:42pm CST
My little kitten just has to be acknowledged and she starts up a purr. Not just by patting her, I mean calling her name or if we move to another part of our house. She follows me and my partner everywhere and rubs along our feet and purrs constantly. She always looks like she has won the lottery, happy and snug. Is this common in cats?
7 responses

• United States
2 Apr 07
oh yeah, my cat purrs, SO LOUD and so LONG ALLLLL the time. LOL, it gets on my nerves..but it just means they are happy

• Australia
2 Apr 07
I love it when she purrs, just not at 4 am in the morning right near my face! I was hoping it was just because she is happy but she does it all the time!!!

• United States
30 Apr 07
Hey, don't complain about having an affectionate kitty on your hands--one one cat is like that..he especially loves to cuddle near me when I'm talking on the phone..maybe it's jealousy?? Meaning that he doesn't like me to be talking to someone else?? I'm pretty sure your kitten's seeking out attention is quite normal...and it's her way of saying she loves you--now isn't that great!

• United States
23 Apr 07
i have a silver tabby who purrs obnoxiously loud,and all the time.even if he's by himself,he purrs. i wish i could bottle that happy,i'd be rich LOL

• Canada
2 Apr 07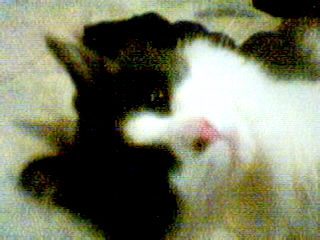 Our Baby Kitty is about a year and a half old now but he was tiny when he came to live with us. He captured my eye in the pet store and all I did was ask the clerk, "Is that a male or female? She brought him out front and put him in my arms and said, "Male"... then she walked away. (I swear this is a sales tactic they are taught but that is probably another discussion. Anyway, my future Skoooter saw that I was going to hold him when she passed him to me. Before I even had him snuggled in my arms he began to purr. I have heard many cats purr, but never like this. It's literally a melody and it's LOUD. He begins purring often just when he sees you come into the room. He just assumes you will feed him or pay attention to him. After all he is soooooooooooo beautiful. He knows it.

• Australia
2 Apr 07
hehe yeah! My cat is just like yours! She won't ever shut up when it comes to purring. But that is one of the qualities I love about her the most :)

• United States
30 Apr 07
I thinks cats are like humans in that they have all kinds of different personalities. Some really like to purr. One of my cats has such a loud purr I have nicknamed him "Evinrude" after the boat motor.