spiderman 3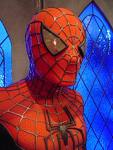 Philippines
6 responses

• Philippines
3 Apr 07
Just like everybody else I am still waiting to see this movie. I heard it will be release this May on the theaters. Yet another big hit movie of the year for sure. If you want to see some parts of the movies try browsing Youtube there are plenty of trailers of Spiderman 3 in there. You will definitely love the trailer of the movie. I guarantee you that.

• Philippines
3 Apr 07
it will be shown on May 4, 2007. but in the Philippines, it will be shown at an earlier date, on May 1.



•
2 Apr 07
Yup Spiderman 3 is definately on it's way - it's due into the cinemas in May (early may I believe). If you want to read a bit about what it's about may I suggest looking on the IMDB (Internet Movie Data Base). Great place to see what a plot line is, or who is in a film. Personally I've found it a really useful website and it covers tv shows not just films too.

• India
2 Apr 07
it was releasing on the first week of may..from 1-4 of may..i hope you had wached the trailer of it..two villans..dark spidey..its goin to be a great flim..what do u say..?