water way to live!!!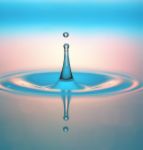 India
April 2, 2007 8:50am CST
drink water and stay healthy.water is the most important element in our life.we drink water to quench our thirst but its simply not a thirst quencher,its pretty much more than that.adequate of water intake daily can help us stay away from diseases for our lifetime.so how does water help us to stay healthy. *blood-adequate in take of water keeps our blood thickness/concentration to a normal level.water if adequately taken prevent dehydration,prevents sudden blood clots in various parts of our body especially in brain.ithelps reduce salt concentration in our body and reduce high blood pressure.*kidney-if 2-3litrs of water is consumed everyday then it helps maintain good flow of urine.good urine flow will prevent renal congestion.thus it there will be less kidney problems such as hypertension,heart failures.*liver-drinking adequate water also increase buliding and formation of new liver cells which result in clear system and increased apetite.*intestine-water if taken in adequate amount would drive out problems like mild dysentary,gastritis,acidity,constipation,ulcers,parasites like tape worm,hook worm etc.and even cancers.*other parts-there would be fewer infections.wound would get healed easily,there would be lesser pimples,boils,muscle cramps due to dehydrations and nose bleeding.water if taken in adequate amount will produce a glow in our over all appearance.***caution-drinking water is good.dont be over entuhsiastic,never evr try to drink more than you can drink at a time.i must suggest not to drink more than 300 ml of water at a time.it may lead to heart palpitations and may put excessive pressure on your kidneys and stomach and can cause indigestion too.be steady and consume water at regular intervals in moderate amount.thsi is in short i explained a few important points to let you know the importance of water in our life and its influence on our overall health conditions.
2 responses

• United States
2 Apr 07
Thanks, I totally agree. I love water makes me feel so much heathier. I remember years ago when I didnt drink water I just never felt good, but I have also OVER drank water to as you mentioned.

• India
2 Apr 07
thanks for the response!yaa even i drink a lot of water in a day!!makes my skin glow!heheehhe!

• Philippines
2 Apr 07
I do make sure that I drink lots of water everyday. I consciously count the number of glasses that I consume everyday and it did help me maintain my overall well-being. The heavier the person is the more water that person needs to mobilize all those stored fats.