who has seen the movie dremgirls?

Philippines
April 2, 2007 12:09pm CST
have you seen the movie dreamgirls?? what do you think of the casts? was the movie great? was it satisfying? was it moving? tell me
4 responses

• United States
28 Oct 08
I loved Dreamgirls and I went to see it a couple of days after it opened with a friend because I kept hearing about how it was packed on Opening Day(Christmas, 2006)and I didn't want to get caught up in the rush, so home I stayed. I thought the cast was outstanding, the movie, energy and vibe was contagious and I loved it. I bought the CD that I still listen to, and I have a couple of copies of it that I still watch from time to time.

• United States
9 Apr 07
I have actually finally seen the movie dream girls and the movie itself was a 7 out of 10 just because I thought there would be more included into the movie. I guess you can say I was kinda dissapointed, but I love beyonce she is just the best in everything she does. I just wanna say keep doing what you are doing because you are great.

• Philippines
9 Apr 07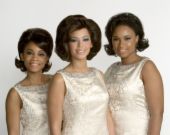 Forgive me if this sounds redundant, but I feel I should advise you right up front that "Dreamgirls" is a musical. The reason I say this is because when the movie ended, I heard several people comment negatively about how there was too much singing. They clearly did not know what they were getting themselves into, and in their defense, the first I had heard of the musical – which, for the record debuted in 1981, ran for over 1,500 performances and won six Tony Awards – was about a month ago. So there it is. It's a musical. Let's move on. Not only is it a musical, it is a highly entertaining one at that, especially if you're a music geek and enjoy playing Spot the Similarity for these "fictional" characters. The soundtrack is not going to knock "Grease" off the shelves, but the performances of those songs more than make up for any shortcomings, and writer/director Bill Condon, for the most part, packs a bunch of zip into every scene. The story is loosely based on the Supremes. It's the early '60s, and childhood friends Deena (Beyoncé Knowles), Lorrell (Anika Noni Rose) and Effie ("American Idol" contestant Jennifer Hudson) are the Dreamettes, a singing group looking for a break. They get their break when used-car salesman and talent manager in-training Curtis (Jamie Foxx) lands the three a slot singing backup for the hardest working man in show business, Jimmy "Thunder" Early (Eddie Murphy). The tour is a big success, and Jimmy and Lorrell get romantically involved. So do Effie and Curtis, until Curtis moves on to Deena. The girls eventually cut a single of their own, written by Lorrell's brother C.C. (Keith Robinson), and before long are climbing the charts on their own. But Curtis, shrewdly, changes the lineup so that the slender, prettier Deena is singing lead over the heavier Effie, despite having a much weaker voice than Effie. The gamble pays off magnificently, but wreaks havoc on the band. You all know where it goes from here.