What makes you really mad?

United States
4 responses

• Trinidad And Tobago
2 Apr 07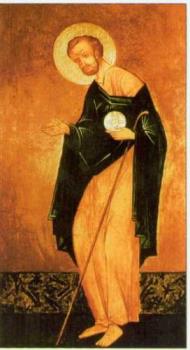 I so much in these time I have a friend and my mom who is my life saver and if youcome up short on someone who dear to you baby Jesus talk to him psalms help me you can choose one personal for yourselve you will get familiar with it 1 is good, st. jude he helpped me alot and take it to God and leave it up to him and you'll see...

• United States
3 Apr 07
St. Jude, the patron saint of hopeless causes, has helped me through times I saw no way out and he brought the help I needed in only hours. Thank you for mentioning his help here. I think you have reminded me of what I really needed to do which was thank him and tell others of how he helped me. Have a blessed day.

• United States
2 Apr 07
It takes a lot to get me angry. I do get angry at the injustice of some things. I don't like to see kids mistreated or my family upset. I try to remain calm and talk with my family when I am upset. I also like to just focus on something else like a hobby or a tv show.

• United States
3 Apr 07
Do you find that it really helps to focus on something else? I find that amazing because for me when I try to do that it does not work for me , I cannot seem to get what made me mad off my mind long enough to focus on the tv show. I also agree with you that I really hate to see children being mistreated, children are innocent and defenseless and deserve only love and kindness. Thank you for your reply.

• United States
2 Apr 07
Something that's helped me is journaling; and there's always prayer. It may not stop you from screaming-but it will keep you busy long enough for everyone to get out of hearing range. LOL Best wishes.

• United States
3 Apr 07
LOL, Journaling is something I had not thought of so thank you for that. I will try it because when things make me angry I tend to brood and overthink them so maybe if I write them down I can let them go. Thank you for your reply.

•
2 Apr 07
I tend to rant and rave before I have thought of a better way to deal with things if something makes me really angry!! I am so peed off with the education system in my country at the moment I will usually write emails to politicians to vent my anger or I tell others if they do not know what is really going on and how we are being fooled by this evil Blair government!! In the past I have been on marches or stopped buying products that are unethical as a way to make a stand. Although these are only little things it does make me feel better.

• United States
3 Apr 07
Ah yes politics are enough to make anyone want to scream. I can understand how you feel about being sick of the way your govenment is mishandled, believe me as an American I can completely get where you are coming from. Our education system is also almost at the point of being a joke and yet we invest hundreds of millions of dollars to only make the world hate us more. Blair and bush seem to have their heads in the sand while the everything falls apart. I can only say I look forward to the next presidential election. Thank you for your reply.