Why do buses stop on raildroad tracks??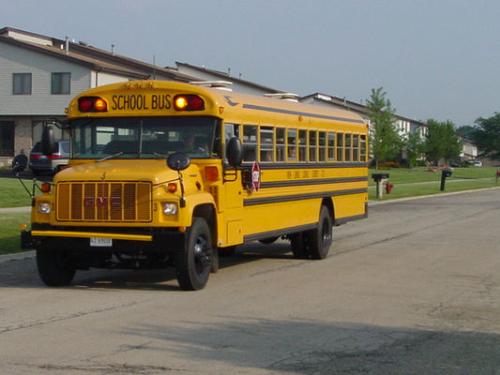 United States
April 3, 2007 1:38pm CST
I asked a bus drive one day why they stop on rail road tracks and open their door. They told me that they are checking for the sound of a train. Why would you stop on a track just to hear if a train is coming?? It would make more sense to go right over them if you don't see anything and the gates aren't down. To me, its stupid if you stop on the tracks becaus then you are just like a sitting duck, waiting to be hit, don't you agree??? Do you know why they stop??
4 responses

• United States
3 Apr 07
According to most state laws, a bus is supposed to stop a certain amount of feet before the tracks and open the doors to look and listen for a train. They shouldn't be stopping on the tracks. That is not smart. If the driver doesn't stop and do this they can be ticketed.

• United States
3 Apr 07
That's what I thought, but I constantly see busses stopping ON the tracks, not before it. With a bus full of kids, this is definitely not an issue that should be taken lightly. What if the bus stops on the tracks and then they get stuck or something? I guess the bus drivers by me are just stupid!

• Japan
4 Apr 07
This is the first time I've heard about busses being required to stop to listen for the train.

• Japan
3 Apr 07
lol, that can pass for a funny joke. "why did the bus stop on the railtracks - to hear the train coming". Actually I've never heard of bus stopping on railroad tracks. In the first place, why do you want to listen for the train? If you managed to drive over the rail tracks in the first place, why not keep driving?

• United States
3 Apr 07
First of all, I don't think the buses stop ON the tracks. At least the buses I have been on haven't...they would stop before the tracks, usually right in front of where the gate would come down. I think this is a very smart move. I used to live out in the middle of nowhere and we actually had three people die in car/train wrecks. Trains are used quite frequently where I'm from and school buses definitely need to stop because sometimes the gates can malfunction.

• Janesville, Wisconsin
17 Nov 07
In the United States it if federal law for all buses to stop at all railroad crossings, other then the ones with the Exempt signs.. Usually this mean the track has good visibility so the train can been seen easily at these particular crossings... Some thinks they means the tracks are out of service and not used, all it means is buses and trucks do not need to stop at them, sometimes due to highway speed it is seen unsafe to stop at them, but I think in that case they need to lower the speed limit or build a bridge or a tunnel over or under the tracks, or raise the tracks over the road.. or under the road... I used to along time ago through the rule was stupid too, and well stoping ON the Tracks is not suppose happen either a train hangs 5-6 feet off the track both ways.. depending on the type of train and the track guage (width between the rails).... In the US we are suppose to stop or park 11 feet from the tracks... I however prefer 15... Then the buses usually open a door and a window to listen for the sound and visbilitiy... Well.. We had busdrivers that like to ignore this rule... and one day..... I was sitting in the back of the bus, the students were whipping pennies and spit wads at me, after I told the busdriver that putting me in the back of the bus was dangerous.. he asked why I said things start flying.. literally... Well.. of course he wanted to see for himself ... so I sat in the back.... and well things were flying.... We were approaching the Tracks Visbility clear both ways... No train in site.. but I have a 6th sense thing going with them.. My hands were shaking and I felt warm energy... I knew a train was near.. I stood up and yelled to the bus driver you better stop before the tracks!... This time!.. He and the entire bus started laughing, as they all stated there is no train here no one can see it.... I said but I can feel it. Just humor me, and stop at the railroad crossing please.. So about a minute later.. We turn right onto another road, and stop at the crossing. Not only did we stop with the bus driver yelling profanity... But Everyone stopped throwing things and the bus fell silent, as they could not believe their eyes that we were three feet from running into a train!.. That law is there to keep distracted drivers from running into trains! With good reason, if it were not for that law my busdriver would have ran us into the train at that moment... We had a different busdriver who did end up getting hit by a train from the back.. I warned him... about a dream I had made him promise to make everyone sit up front.. He did and because he listened when the Train hit the back of the bus no one was hurt.. It was zero visibility that night, foggy, and the tracks had no gates or lights. So when you complain about the flashing lights and gates, it helps people see them better in thick rain, snow or fog. I helped the town get enough information to get a railroad crossing lights at that crossing, both of these places these happened at were double tracks, with switched near by. Tracks may look clear, and sound clear... But a train can come off a switch.. or like a side road onto the mainline.. or mainroad.. and seem to appear out of nowhere... So this is why the law is there to stop at all railroad crossings, and railroad crossing accidents were cut in half when they first put the law in. Now in Wisconsin USA.. Mr. Gardenr the President of the Wisconsin and Southern Railroad company started to put up Stop signs at all crossing that did not have the flashing lights and gates... and yield signs at some areas where the traffic speed is to dangerous or where it causes massive traffic jams if people are always stopping at the tracks... I watch the railroad news daily and post it in my news blog alot.. I am all for not only buses and trucks stopping at the railroad crossings but everyone doing so... Wisconsin and Southern Railroad companies Stop sign program http://www.wsorrailroad.com/safety/stopsigns.html And you can view how often people are killed or injured at railroad crossings here... this has some good facts everyone should know whether you like trains or not... Be alert, aware, and stay safe.. "Stop, Look and Listen" Operation Lifesaver http://www.oli.org Stopping before the tracks not on the tracks.. - Dana C. L. "DNatureofDTrain"