to be or not to be ---veggie???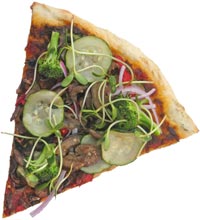 April 4, 2007 5:13am CST
I have moved in with my girlfriend recently and as she is a strict vegetarian she does not like for me to cook meat in the house as she cannot stand the smell as it permeates everything. I have therefore found myself as an enforced vegetarian with very limited access to meat or meat products. While I do enjoy the meals she cooks for me sometimes its just not filling enough without the meat and part of me wants to say so but I do not want to start an argument. All advice will be gratefully accepted and considered.
4 responses

• United States
4 Apr 07
Honestly I dont know if I could do that in your situation. I can understand both sides really, and I don't know how you can make that work! It seems unfair for you to have to stop eating meat if that's what you enjoy and unfair for you to cook meat and make her sick! Maybe you can make meats when she isn't home? I would tell her you are still hungry after her dinners, just be kind when you say it so it doesn't make her feel like you are attacking her. But communication is a key to a relationships success, so if you feel this is important (which it sounds like you do!) then I would say just let her know how you are feeling and hopefully together you guys can compromise!

•
4 Apr 07
As you are in a lovely relationship pal , I would suggest you eat veggie at home but go out sometimes for a meat meal. even a fast food or something like that but I think a nice meal for two would be lovely , Take care pal and love to you both xx

• Belgium
4 Apr 07
I am a veggie as well and have been for several years now. I can relate to both you guys. The smell of meat is indeed very permeant and not very tasty if you are a veggie, but then again, you like eating meat and you have a right to do so. So what would i recommend? First of all: try baking meat in vegetable oil instead of butter, olive oil for example. Not only because it is healthy, but also bacause te smell of burnt butter around meat is very offensive and gives it an added, for lack of a better word, yuck factor :) Secondly: try having fish and poultry as an addition to her cooking: although I do not eat them myself i've found the smells less offensive. Thirdly: if you really don't find a solution, talk to her about it, without actaully attacking her food choice. Don't say that vegetarian food is not filling, just say you respect her choice, but that you would be more full if you did have some meat. Finally: try having veggie burgers or other alternatives: they are more filling then just vegetables, maybe that way you can reach a compromise between the both of you. She avoids the smell and you feel full.

• United States
5 Aug 07
I think that mutual respect is the most important thing here. And, I can see both points of view. I've been for the most part a vegetarian for many years. But I realize that my body doesn't function right unless I have some protein. And it pretty much has to be meat ~ or I start to feel very weak. And yet, the texture & smell of meat make me physically ill. So I have to "trick" myself into eating it by hiding it in pasta or tacos, etc. At any rate, you both should respect each other's personal decisions. It's nice that she cooks for you, but she shouldn't have control over what you can or cannot eat. I might suggest that you go out to eat sometimes. Then you can each get what you want & eat harmoniously. Vegetarianism is a lifestyle choice & it's not for everyone. Mutual respect is the most important thing here, I think.