Something I wanted to share with you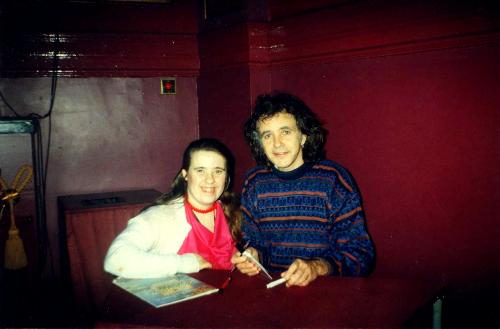 April 4, 2007 6:07am CST
I know I have posted about my use of steriods that the DRs had put me on over the years, but as I was going through some of my photo CDs I found an earlier photo of myself with singing star David Essex from when I was about 24, I wanted you to see me then and look at my profile pic and see the difference that the steroids have made to me. Please if you are thinking of steroids Think again! I am now quite disabled as a result of perscriptions of these drugs the Drs insisted of me having for various illnesses over the years Before the steriods, even though I was prone to an allergic asthma along side of my epylepsy, I was very athletic and into all sorts of sports, competitive horse riding, swimming, netball, speed-skating and running half marathons, now I rely upon the suport of crutches to get around and sometimes have to use a wheelchair Lynn-Marie
2 responses

• Philippines
4 Apr 07
There are just times that we wish that we could turn back the times and unmake the mistakes that we made. However, there is no use mulling over such things since what we have is now and we have to make the best of it. Though some of us could no longer do the things that we use to do, we are still alive and can still do a lot of things. Life doesnt have to stop but it could still go on, we just have to make some adjustments. Thanks for sharing your experience and I'm sure it would prevent others from making the same mistake. Take care always!

•
4 Apr 07
Just given you a plus for replying,, the idea was to try and prevent others from going through what I am going through now. If it saves someone else, then it has to be something worthwhile.

• India
4 Apr 07
Just saying thanks.Your post should knock somebody who are going through like you.I think its great honesty to say the misdid you had done.Thanks.Wish a very good luck.