Judaism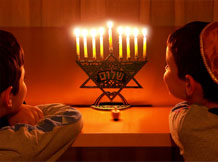 India
April 4, 2007 3:21pm CST
Judaism is around 35000 years old. Jews believe that there is only one God and that the jewish people were specially chosen to receive God's guidance.
2 responses

• Philippines
4 Apr 07
Judaism is not around 35000 years old because from the time God created, there are only about 6000 years that passed. Judaism started when the Jews started waiting for the Messiah and when the Lord Jesus Christ came, they did not believe that He is the Messiah. It is not only the Jews who were the specially chosen to receive God's guidance but all the tribes of Israel or the whole Israelite nation. The Jews came from Judah who's one of the 12 tribes of Israel.


• India
5 Apr 07
I just want to gain more information on this so thats why i have started this topic.