What is your favorite Sandiwch...

United States
April 4, 2007 4:58pm CST
What is your all time favorite sandwich and how do you make it, what kind of bread, toasted or not, Do you use cheese or not and if so what kind, Mayo or salad dressing, mustard or no, vegatables etc... Be Specific. Looking forward to to your responses
8 responses

• United States
4 Apr 07
Take a really crusty roll, like italian, french, or just a piece of a baguette. Drizzle some extra virgin olive oil and fresh pepper on the bread. Then add fresh tomatoes, mozzerella (the fresh kind that comes in the water), fresh basil (you can substitute pesto sauce out of season) and thinly sliced procutttio. I also like to add a little sea salt on the mozzerella before I put it in the sandwich. Pure heaven and best to make in the summer with home grown tomatoes that are really red and ripe.

• United States
5 Apr 07
my husband would love that sandwich

• United States
5 Apr 07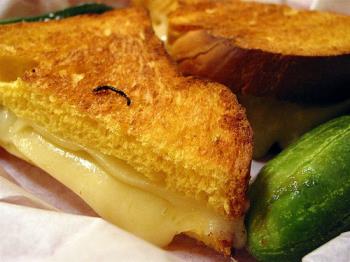 I think if I had to pick just one it would be a toasted cheese. I debated a steak sub but to be honest as much as I love those there is nothing more comforting then a toasted cheese with a bowl of tomato soup. Sort of a comfort food for me I guess.

• United States
5 Apr 07
My favorite sandwich is regular white bread (not picky on the brand), doesn't need to be toasted. If it is, very very lightly toasted. Cheese -Velveeta slices. Turkey slices -oven roasted, not smoked. The cheese has to be melted. I use a microwave. That's basically it, although if I'm feeling adventurous, I'll use a small sprinkle of onion or garlic salt, too.

• United States
5 Apr 07
My all time favorite sandwhich is one that my fiance makes for me at home. He makes it on a Kaiser roll with a little bit of Mayo. Next comes some swiss cheese, followed by lettuce, tomato, red onion, and pickle. It's just perfect. He says the special ingredient is love. :)

• United States
5 Apr 07
my favorite sandwich is roast beef with provlone cheese...all hot and melted on an onion roll...

• United States
4 Apr 07
I guess my favorite is a sub that has turkey. american cheese, lettuce, tomato, oil and vinegar. I prefer it on wheat, but itallian bread is also a good choice. No mayo, no mustard for me. I hate both of those! Also not toasted, I like it cold. Subway and wawa make delicious turkey subs :)

• Norway
5 Apr 07
my favorite is with chess, salat, baycon, eggs and tomate and need be with breadfransch