A compliment? What was he thinking?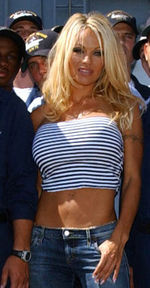 United States
April 4, 2007 7:57pm CST
I have been stewing about this for a while,now I am ready to bring this up. My husband is a business owner in the cable construction industry. Occasionally, one of his crews will pass by our place on route to a job. If I am outside (usually looking for one of my 4 kiddos)and recognize the truck I always wave. Well a couple of weeks ago I waved at one of his trucks and apparently it was some of the guys and not my husband. When my husband came home that night he said that the guys had paid me a compliment. I thought they might say something like I had a great smile. No,such luck, he said that they had complimented my "well endowed chest". Unbelievable!! My first response to him was" you discussed my chest with your employees? My husband looked perplexed and said well they think you have a great figure!! I responded with "Any man that discusses his wife's body parts with other men and then tells his wife about it is an idiot!!! Now when I go into the office I am really self-conscious!! Am I being a prude or is this type of discussions between men common place? I mean, when I get together with my girlfriends, we don't discuss our husband's "endowments". Am I being a prude? what do you think? would you want someone to talk about your husband or wife in that manner? Would you tell your spouse?
5 responses

•
5 Apr 07
I don't think you're being a prude but I also think you shouldn't worry too much about this - the fact that your husband told you this suggests that it's not something he normally discusses with his firends/workmates (otherwise he would probably have mentioned it before). This is pretty standard male behaviour but I must admit I've never really understood it - a bit like groups of men wolf-whistling at a woman. Personally, when I see an attractive woman I don't feel the need to tell everyone about it.

• United States
5 Apr 07
Thanks for your response Mark, you are a right, I suppose this is the behavior you can expect from a group of guys, there are a few gentleman out there like yourself that keep their observations private,believe me it is much appreciated by women.

• United States
5 Apr 07
Should I get married, and my husband would do that, I would also feel uncomfortable. Why? As you said, you never discussed his attributes or endowments to your girlfriends, and you would also expect him to not discuss these things to his male co-workers. I believe you put a high regard on being respected (as I would also do, as I would react the same way as you did). The thing is, you know your husband better than anybody else here, and you would know if he did that because he's proud of you, or if he did that without any respect for what you may feel about it. The point is, he told you about it, which could mean that he's proud of having a wife who could be envied by men, a wife who is physically endowed. I don't think you're a prude. I like it when women stand up for the need to be respected. But then, of course, you can discuss this with your husband and once you know that he's innocent about what went on, there's no problem. Happy myLotting, friend!

• United States
5 Apr 07
I don't think you are being a prude at all - not only is it unprofessional for them to be discussing your 'body parts' but for your husband to go along with it that would tee me off. A few years back my oldest son and a good friend were running a tax return business during the tax season. Because of some problems with a female in the office the "boys" asked if I would help out for a few weeks as receptionist/secretary. It was strange at first, working with my son but it was so funny one day. Shawn (my son) had a client back in his office when the client left he didn't look too happy and my son looked even more unhappy. We stepped outside so I could find out what on earth had happened. Shawn informed me the 'client' had the nerve to ask him if he had a hard time concentrating on his work with that hot chick setting out there (meaning me)? Shawn informed him no he didn't have a problem with that but he had a big problem with some one referring to his mother as a 'hot chick' and he refused to do the guys taxes... I took it as a compliment - not that the guy said that but that my son respected me enough to stick up for me. He had also told me he wouldn't have had a problem if the guy had just said something like that lady is very attractive or nice looking or something but 'hot chick' just sounds trashy and he knows I'm not and nothing should have given that guy that impression.

• United States
5 Apr 07
You know Faith, that was my initial reaction to my husband's comments that it is just so unprofessional to talk about those things with "the guys" in this case his employees. I guess that image you see in commercials of the construction guys standing around and hootin' and hollerin' at ladies as they go down the street is very much true to life. I just think that as a wife and mother I would be protected from comments like that. I think in his eyes he was giving me a compliment..but me being pretty conservative I was mortified. Anyway, I LOVE the way your son stood up for you!! Awesome!! I hope that all of our sons will stick up for their moms and the women in their lives. It is the honorable thing to do. My mom is a head turner and I could just about imagine what my dad's response to a comment like that would be!!

• United States
5 Apr 07
I had a similar thing happen to me. My nephew and I were out getting a script for our church youth program and happened to stop to eat at a fast food resturante. We ran into some of his friends from his reserve unit. Later on when he saw them at the unit they asked him who the hot chick was that he was with. I guess it took my nephew a few minutes to figure out what they were talking about until they mentioned the fast food joint they saw us at. I thought it was funny when my nephew told me. This also happened to my husband. Our house happened to be across from the elementary school that our girls atteneded and when my oldest daughter was in fifth grade she was out on the playground with her friends and they happened to see my husband outside. The girls asked my daughter if they knew who the cute guy was. We all thought it was funny when our daughter told us this.

• Philippines
6 Apr 07
if you are a prude, then i am a prude, too. besides, i don't think it's in good taste to be discussing intimate details about your partner to others. and friends shouldn't be talking about that in front of your husband, too. i mean, i find that disrespectful. if someone talks to me about my husband's "assests", i'll cut them out or walk away. it's okay if the comments are just overheard, i'd feel flattered, too. but discussed?

• United States
5 Apr 07
One thing you have to understand. Men think differently then women. They are more visual minded while women are more emotional oreinted. To them that is giving a women a compliment. And you know that they meant it in a good way if they felt comfortable enough to say it to your husbands face. Also your husband's reaction to the compliment should give you a clue that nothing but good was meant by it. Do you honestly think he would stand for his crew to make lewd remarks about his wife? And yes men are apt to remark to one another if they think a women has a great body. Not that they discuss it in great depth or anything. Someone probably remarked to your husband in passing that they saw you in the yard and made the comment that he had a good looking wife. No big deal. And if you told your husband that you discussed him with other women he would proably be flattered and not offended. My husband has always told me when someone made a comment like that and he was not afraid to make a comment like that in front of me if he saw another women he thought looked good. I knew he meant nothing by it. To him it was like saying he thought a certain car looked good. Its just how men think.