women are more sensitive than men!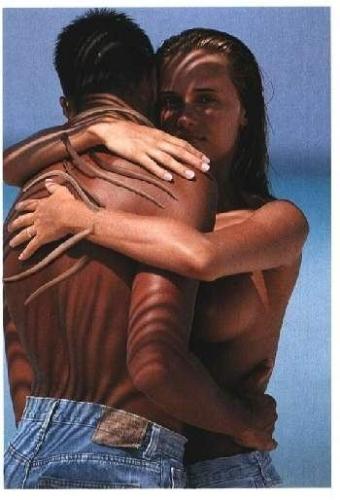 Philippines
April 4, 2007 10:27pm CST
Recent research shows that women are able to feel their emotions and talk about themselves at the same time (using both sides of the brain). Men can't do this, they can either feel or talk. And so, there is physical reason why: the man in your life, finds it hard to talk about his emotions, or the woman in your life is talking and feeling at the same time (and confusing you).
5 responses

• India
9 Apr 07
yes you are right to some extent dear....women are more sensitive then men in every stage of their life...marriage, baby,boyfriend ...in every part of their life.....but thee are few mens who too are quite sensitive.... don't you think that???? what's your opinion about htis point dear???

• Philippines
10 Apr 07
I know that some men are sensitive too but mostly girls feels everything and that makes them more sensitive than guys. I also think that in relationships we are more mature in some ways or maybe I experienced a lot of guys who I saw that they're immature most of time. What do you think about this?

• Philippines
5 Apr 07
If this research has been proven then we could expect men to be more insensitive. Women will probably be forced to understand men of how they act on a relationship. This will answer every woman's question about men and the way they show their love. Honestly, I am not soft when it comes to relationship. I tend to be understood and not to understand my girlfriend. Most of my past girlfriends has the same comment given to me. They always say that I am as hard as a rock and very insensitive indeed. What can I do? This is me and if I change then that will be totally a differnt person. I can't act like somebody else because they just wanted me to be. If I do it then I am fooling them and myself. Well, we will never know what happens. Maybe I'll change or not but no matter what happens they should accept the fact that accepting me as their partner is like accepting me totally for what I am.

• Philippines
7 Apr 07
You are so right! Actually men are mostly insensitive, in my opinion they just don't want to show their feelings because why?? I asked some few friends about this and their answer is all the same they're ashamed because it will not be manly if they cry i front of a girl or whatsoever.

• India
31 May 07
yup..Women are very sensitive in nature when compared to MEn..but some MEna re also sensitive..but I do agree with this conclusion of this research..Women can feel their emotions are also talk at the same time and in my personal opinion Women are more xpressive than MEn..according to me, Men doesnt express much and are very bad at it..Women express things very well and are very sensitive and emotional and caring too..:)

• Philippines
25 Apr 07
yes i agree that women are more sensitive than men because women are too expressive on what she feels and she does not ashame to show it however, there are men that are too secretive maybe he does not want to decrease his self esteem or his ego because when men cry there some people says that they are gay and to what i have observed they are not that expressive when they are hurt, they will just keep quiet while women will tell what she went through with her entire life...

• India
25 Apr 07
its nice to know that. it is also proved that women are more sensitive. In case of feelings also when one hurts someone, a woman is more hurt than a man. in case of feelings in a relation, its always the woman who feels so much.