Toddler moving to toddler bed.....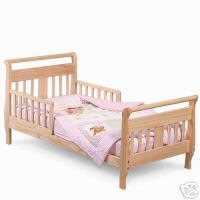 United States
April 5, 2007 7:04am CST
At what age did you transition your toddler from the crib to a toddler bed, or a regular bed? I kept mine in a crib until they tried climbing out. Then I moved them to a regular twin size bed.
7 responses

• United States
19 Jun 07
Like you I waited until they started to climb out of them. Then I did use a toddler bed for a short period of time and then switched them to a regular bed. I don't know that I could have moved them straight to a regular bed. I had a fear of them falling out of bed and hurting themselves. But I guess falling out of a crib trying to get out is not much better. Oh well, they are way past that stage now.

• United States
19 Jun 07
When I put my kids in a regular bed, I bought those guard rails that go along the bed. That way they didn't fall out and it was definetely safer then having them climb out of the crib.


• Canada
5 Apr 07
I kept my son in the crib until he was 19 months old. At that point he would have stayed in the crib except that I needed it for his sister. She had outgrown the bassinett at that time, so he moved up.

• United States
15 Jul 07
I am pretty sure as soon as my kids started to climb out of there cribs I moved them to a regular twin bed, I did have like side rails so they could not fall out.


• United States
19 Jun 07
My 16 month old is currently sleeping on his mattress on the floor. He started getting out of the crib when he was about 14.5 months old. We already knew we were getting ready to move by then, so we decided to wait until we get to the new house to give him a toddler bed, because that would just be one more thing to move. My husband is ordering Elliott's Elmo toddler bed, and other bedroom furniture so that it will arrive in plenty of time to be all set up when my son and I get back from my sister's wedding. Elliott will have a whole new set of "big boy" furniture at our new house in his new room. We're hoping it will help him transition better.