bird fight in villages !!!!


India
April 5, 2007 9:25am CST
This fight is most common in villages.People keep bets on a particular bird.End of the fight you can see the birds bleeding.Sometime, on the sly the owner of the brids feeds alcohol to the brid to fight vigorously.I have heard some volunteer organisations fight against this cruelty but it is still practiced in villages. This sport, do you think to be stopped by law.
3 responses

• Philippines
14 Apr 07
Here in the Philippines, cockfighting is a very popular betting game. People from all parts of the country go all the way to places farther than their own just to participate in these major (often underground) events. Bets can get big, really big!... and sometimes, these events gets to be shown on national TV. Yes, cockfighting is a very popular sport in some parts of the world, but I don't think it is that cruel as when people throw their Pitbull dogs into the pit (these are domestic animals unlike chicken). Since bird's brains are very small, most assume 'they don't feel pain' (lol!). Just think about it, countless masses of chickens get slaughtered everyday for human consumption, how does a little cockfighting here and there any different than that?.. I'm not totally in for cockfights but I do think people shouldn't make too big a deal about it.

• India
5 Apr 07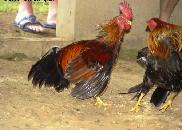 Villages, who better than me knows about villages. I have speant my 18 years in a village. My dad kept three of us with mother in a village so that we can concentrate on our studies and will be far from hotch-potch of city. What it did was finally all three of us were brilliant in studies. But we have seen many rituals and practises which were totally wrong practised in villages. To start the response I will go with your discussion topic, yes animals are being fought in village for enjoyment and bettings. Birds like hen have to fight with other one as they are taught this from their childhood. best hen is then given money and owner the respect. No volunteers and organisations, I have ever seen in my village. This organisations work only for name,fame and charity money . They work in villages near cities and doesn't think of working in villages which are in rural areas . Villages which really need to be taken care of. That's all friend.

• Philippines
5 Apr 07
I think you are talking about cockfights, because we have that here in the Philipines. It's a tradition, a part of our society eversince. The Spaniards who came here were the one's who brought this type of game in our country, and it was first meant to pass time. They use gloves for the roosters not to gut hurt, but as time goes by, they changed the gloves into a sharp lnife-like hook that they attach on one of the rooster's leg. Of course the rooster if not lucky, would die and most of it go straight to the butcher's table. Our country regulated this type of gambling, in which they penalize and jail those who does this illegally.