What is game of cricket? Why are people so passionate about it?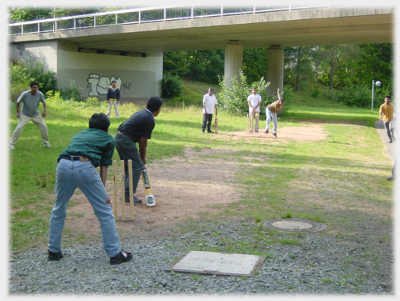 India
April 5, 2007 1:30pm CST
I have read in newspaper that in India, cricket players houses have been broken ( dhoni's house in jharkand ), Zahir khan's hotel was attacked in pune. Why are people so passionate about game of cricket?? Can you please tell me what is this game cricket and how is this played??? Can anybody play for his country as Idiots are playing for India ( sorry, if you felt I said something wrong, nothing personal )???
6 responses

• India
7 Apr 07
to be very frank samrat ,i don't know whay people are so crazy about cricket ,i found it nothing but wastage of 8 hrs of valuable time ,but peple have so much time that evn they are not playing ,others are playing and will be benefitted from that still they won't stop from commenting and be awake or do nothing for the whole day,when u hv expect something u tend to have negative feelings when u don't get it ,it is natural,we should do something good in life many things to do and hv *** instead of cricket atleast it will refresh u.lol dear.

•
6 Apr 07
man, by your name i thought that you are an Indian but by reading your comments over cricket i have some doubts! sorry dude but u should know that if cricket is a game then in India, cricket is just not a game, it is above from all sports. It is a religion in India. It is our passion. It is our game! yes, i m an Indian and i know what the cricket means to us. We leave all the important works just for watching sachin's batting. We came early from the office to see dhoni's sixes. In India, a little kid of 5 years knows almost all the rules of cricket. and u r asking what is cricket? ya it is shame for us that India couldn't reache upto super 8 of the World cup 2007 and that's why people were so angry from our 11 players. But man, our players are not idiots. They need a strict coaching and and superb captaincy. sorry man i became emotional.

•
5 Apr 07
Again my friend the herd instinct is at work here..Look at football and the hooliganism it produces..So the same goes with cricket..Every thing going mad over a ball that'e either batted or thrown or kicked..The mind boggles.what about the money top cricketers and footballers get? That's another story lol.

• Lithuania
5 Apr 07
evry country have their favourite sport. As in Lithuania we are crazy about basketball! So the same is about cricket in India.

• United States
5 Apr 07
I've never understood what makes cricket so much fun for so many people. I live in the United States, so I've never had a change to try playing the game. I've heard it used to be popular in Britain. Isn't the game slow-paced? I prefer faced-paced sports if I had to pick one to play.

• India
8 Apr 07
cricket is most popular game in INDIA. but its a game, nobody should take it personally. In game sometimes we win sometimes we loss.. it doesn't mean that we should hurt cricketers.