A question of credibility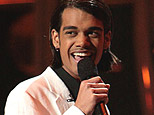 Philippines
April 6, 2007 7:53am CST
Does Sanjaya hurt 'American Idol'? A former contestant asks, "Will Sanjaya's success on 'idol' erode fans' trust?
1 response

•
6 Apr 07
I have said this in other posts and I will say it here again. Its not Sanjaya who is hurting American Idol. It's those Americans who have plenty to say about his talent or lack of it yet do not vote to eliminate him from the contest. There are approx 300 million Americans - I don't know how many of them watch Idol or, of those, what percentage vote to eliminate contestants but of those that do vote, enough like Sanjaya to keep him in. Get off your butts and vote him off if he is such a big issue

• Philippines
6 Apr 07
i respect your comment. it just shows that american idol really rocks in usa as well as in other countries watching the show esp. here in philippines! raise d roof!