Hall of Fame: Jordan and Pippen?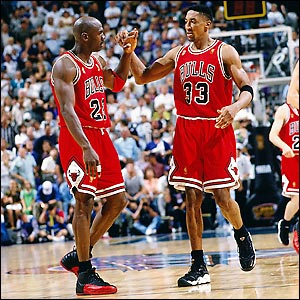 Philippines
April 6, 2007 8:57am CST
The class of 2007 will be enshrined into the Hall of Fame during the festivities in Springfield on the first week of September this year. and who leads this year's class? no other than Phil Jackson, who won 9 NBA titles (2/3 of them with the mighty BULLS). Congratulations Coach. Speaking of the BULLS, when you think of them the two prominent stars that will come into your mind are Jordan and Pippen (future Hall of Famers). But when that time comes, will the two of them be enshrined together? after all, they won 6 titles together, the BEST one-two punch in the history of the NBA (arguable.. heheh). If you would ask me, if that time comes, they should be enshrined together and not separately..
2 responses

• United States
8 Apr 07
I definitely think that Phil Jackson and Michael Jordan will be in the Hall of Fame but I do not feel that Pippen is Hall of Fame material. Pippen was only good because of Michael Jordan, otherwise he would just be an average player at best. Jordan rules and there is no doubt that he will make it. Phil will go down as one of the best coaches ever because of Michael. If Pippen does make it, it would be nice to see them enshrined together. But apparently Pippen still wants to play and is trying to make a comeback so that could mess things up.

• Philippines
9 Apr 07
i would really love to see jordan-pippen go together into the hall of fame.. but i have to agree, pippen still trying to make a comeback as a player.. as an assistant coach that would be more acceptable if you would ask me.. hehehe

• Nepal
6 Apr 07
Jordan and Pipen were the best. In fact we have to admire Pipen's contribution as he was there to complement Jordan and was more than happy to play second fiddle to the great man. But along with them, I think, Rodman and Tony Kukoc must be mentioned. Man! only if Jordan had not left the NBA for two seasons in the middle and only if he had delayed one more year when he finally retired from Chicago Bulls then they could have won 9 straight titles. Jordan should have never made come back with Wizzards in my opinion. But I thoroughly enjoyed his game for two more seasons and I admire him. He was the one who made the game of basketball a global sports. I still remember, when we were kids, everyone who had a bit of knowledge about the game of basketball had even greater knowledge about Bulls and Jordan. He was, for me, unarguably the most elegant player ever to have dribbled basketball in this earth. He had flair and elegance that no one could ever bring to this game. He was a genius and the world of basketball should be proud that someone like Michael Jordan graced this game.

• Philippines
9 Apr 07
lets not forget that jordan during his wizards years was able to set a couple of new records/history.. he is the only 40 year old who scored 40 or more points in a single game... as a matter of fact, it was a day after his 40th birthday where jordan scored 43points.. now how about that.. =)