Palestinians harrassed over regular peaceful protests.

United States
April 6, 2007 5:18pm CST
Last Friday, in the village of Bili'n near the central West Bank city of Ramallah conducted it's weekly non-violent protest against the israeli wall. Fifteen protestors were injured, and one Israeli supporter was adbucted during the demonstration. As has been the case for the last two years villagers, internationals, and Israeli supporters marched from the village towards the gate of the israeli wall that was built on palenstilian land. Upon the demonstrators' arrival, Israeli troops guarding the gate fired sound and tear gas bombs and rubber coated bullets at them, injuring 15 people. Is it right for these peaceful activists to be treaten so badly due to what the hamas militants in palenstine have done against israel? Perhaps if Israel took over palenstine completely they would have to start treating "their own" people like people.
4 responses

• Pakistan
7 Apr 07
they have always been doing this yet they are not considered wrong by the western media and thwen they say they are doing so inm self defence like against Lebnan.

• United States
6 Apr 07
Well look at it this way, what usually happens when Palestineans assemble to protest Israel? I would be concerned too...

• United States
6 Apr 07
It's my understanding the West Bank and Gaza were won by Israel in the war where so many Islamic and Arab countries surrounded her..all of them together against the tiny sliver of Israel.. As a matter of fact, tons more people were absorbed by Israel - the Jews kicked out of Islamic and Arab countries prior, than the number of Palestinians which left the West Bank and Gaza in preparation for the planned slaughter of Israel.. yet none of the huge Arab or Islamic countries would absorb any Palestinians, though they applied.. better to foment their misery and use them against Israel, and it's been very effective.

• Malta
18 Sep 08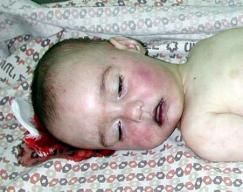 Why is it so difficult that two different nations with different customs and religions live in peace together? So many lives have been lost so far. Many mothers have become childless, many children have become orphans and it seems that nobody listens to their plea.

• United States
18 Sep 08
Yah, it's a sad situation. I don't think if you asked an ordinary palestinian, "Hey would you like to be in endless war with your neighbor country instead of trying to support your family" they would actually say "oh yes, these endless wars are much more productive".