Has anyone ever been in love?

United States
April 6, 2007 9:41pm CST
I'm talking about being truly in love, so deep that you think you can't fall any further.. But each day, you continue to fall deeper in love. Has anyone ever felt this way? Has anyone ever been so in love, that you'd do anything just to see them smile? I have.. *smiles* ..And still am.
4 responses

• India
7 Apr 07
yeah....in one way or the other we all are in love with each other....that love may be b/w our parents, broz,sis,frndz......pets tooo.....so we all are in love!!!!

• Hong Kong
7 Apr 07
I am like that now and all my friends are happy for me because they see the sweetness growing. Each day, I just discover that I am more in love and more things I love about him. We don't live close, so we just communicate by emails or over the phone, still, I feel he is so close to me and missing him is not a torture at all because I know he misses me too! We would just do little things to make each other feel sweet, safe, loved and appreciated. It is so cool. Great for you.

• Philippines
7 Apr 07
Yes i fell in love before and its really bad when we broke up. I still love her but then, we are not really meant to be i think. I fell in love with a girl that really don't deserve my love. Have a nice day ahead from Francis.

• Canada
7 Apr 07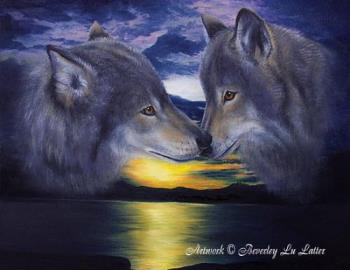 I am that way right right now, the guy I am with right now is my soul mate we have been together for 6 years and I miss him when he is gone to work, I even panic when I can not find him on days we have activities planned. I care so much and love him so much that I can't see my life without him

• United States
7 Apr 07
That's so great to hear. =) That's exactly how I feel about the guy I'm with. I really can't see my life without him. We've only been together for 5 months, but he's so different.. our entire relationship is different than any that I've ever had. It's amazing.