Easter photo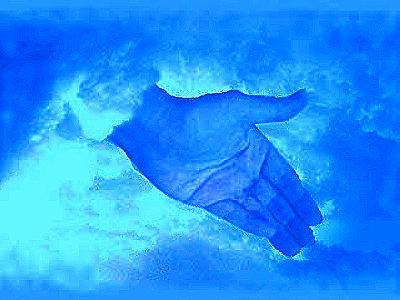 United States
April 6, 2007 10:03pm CST
Someone sent this to me today in my e-mail. I thought it was so lovely, that I wanted to share it. Especially since it was so close to Easter. It was a wonderful reminder to me, that God is there for us in the midst of all the turmoil that comes into our lives.
7 responses

• United States
7 Apr 07
I really like that, it's beautiful! New here and I wanted to comment on it, but it won't let me, I guess because I'm not on your friends list. But that is a great picture!

• United States
7 Apr 07
thanks. It just took my breath away when I opened it earlier tonight. I am sending you a request to add you as a friend right now! Welcome to Mylot.

• United States
12 Apr 07
That is beautiful. I love it. Thanks for sharing it with us all at mylot. I see you are doing really well on mylot now. Congradulations on a 10 star.

• United States
12 Apr 07
Doing my best. i think I'm addicted. lol

• United States
11 Apr 07
This is a wonderful picture. It sure does remind you that He is there no matter how bad it gets. THanks for sharing it.

• United States
12 Apr 07
And wraps his loving arms around us, so that we're never alone. What a beautiful picture isn't it? I can't imagine going through the bad times without that hand to hold.

• Croatia (Hrvatska)
7 Apr 07
It's really beautiful photo. I agree with you, it trully IS wonderful reminder that God is here for us, and no matter what we do or how we feel he will always reach out for us from heaven! thank you for this photo!

• United States
12 Apr 07
The thing is that he seeks us out, if we're looking when we're in those down times.


• United States
7 Apr 07
It just moved me to tears. OF course I stay on the verge right now, with all the emotional stuff going on at our house right now.

• United States
7 Apr 07
It is beautiful. I wish I could hold His hand right now. Or better yet, crawl into His lap. Thank you for sharing this.

• United States
7 Apr 07
You know, the beauty of it, that you can. I've felt him lift me up and wrap both arms around me when I've prayed and asked him for help. Both times, I was at the lowest of low, and it was almost as if he were simply waiting for me to ask.

• United States
18 Apr 07
That is a exquisite picture. Absolutely beautiful. It reminds one that God is always there no matter what the problem. He will give you a hand up time and time again. Thank you for sharing that. It brightened my day.

• United States
1 May 07
yes, the devotion that I wrote yesterday was on that very thing. That God will be there beside us no matter where we go.