is arie gold deserving???!!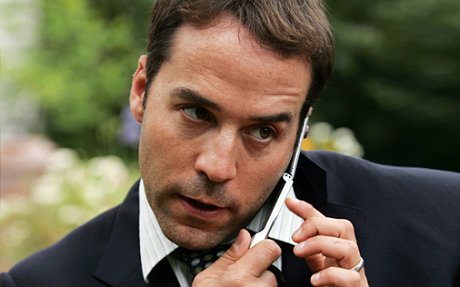 Philippines
April 6, 2007 10:41pm CST
at the end of season 3, arie was fired by our hero vinny chase.. do you think arie really deserves to be vinnie's agent??
7 responses


• United States
23 Apr 07
i totally agree with you man, i think he's the best character on the show. i couldn't imagine watching it without him

• United States
13 Apr 07
He certainly deserves to be Vinnie's agent. Vinnie should stop being so unappreciative and realize that Ari gave him his start and helped him get to where he is....Grant Ari can be overwhelming but he does personally care for Vinnie which he says he's never done with any client.

• United States
12 Apr 07
Personally, I don't think Vince should have fired Ari, but I can see where he was coming from, Ari did lie a lot and tend be a kind of jerk, but overall he did do some great things for Vince, and I think this season we'll really see what he's capable of, I hope the whole thing with "Medillin" works out, because just the plot summary of the movie they talk about sounds like a movie that would be amazing.

• Singapore
11 Apr 07
I think in the whole 3 seasons he had been fired at least 2-3 times but it always worked out well. Ari may possess one hell of an ego but he does what he does best. Selling himself and his clients. It may not be of his client's interest but at least he shows result a.k.a in a form of a paycheck. Look at him, picking up the pieces to start his one 5-man agency!! He's awfully awesome.


• United States
8 Apr 07
First of all I would like to say is that this show is one of the best shows I have ever seen. But yeah the third season is still not over. The second half of the third season is about to start. I can't wait for that show to start. Ari in the beginning episodes was alright to me. He kind of pissed me off because we so uptight and mean. But now for some reason I am starting to like Ari. He is so funny in the character he plays. Of course he deserves to be Vinnys agent. Ari tries so hard to do anything for the group of the guys. Whatever they want they will give it to them. Ari is not going to be fired for too long he is too good to go away. Thats what I think.

• Bahrain
7 Apr 07
Season 3 hasn't finished yet. There are still a few episodes left. The show was on some sort of hiatus but now it will be back on track. And don't raise your hopes up that Ari will remain fired, he's the best one in the show so far. I say he will get the Medillen project back for Vince and everything will go back to normal.