What breed/kind of dog do you have?

Northern Mariana Islands
8 responses



• United States
7 Apr 07
We have two black labs. We have had them since they were about 8 weeks old. They are alittle over a year old now and both of them weigh about 140 lbs. They are very good pets and are good with the children. They are a part of our family and are loved dearly.

•
7 Apr 07
We have a cocker spaniel called Merlin. My username is called after him. I have a photo in my profile but do not have enough posts yet to transfer it here. He is 12 years old.

• United States
7 Apr 07
We have an Australian Shepherd. She is fantastic. She's incredibly intelligent, very loving. It is really amazing how smart she is. She is a true "family dog" in that she doesn't favor any one of us over the other. She plays with each one of us in a different way. She will play rougher with my husband than with me, she likes to play chase with our son and loves to play fetch with our daughter. If any one of us yells out (stubbed a toe or even just in frustration) she will come running to make sure everything is ok. If the kids start fighting, she's in their faces, barking at them to stop. She's very loving - she loves to cuddle. She also seems to understand an awful lot of what we say! My husband and I were talking about him running to the store. Our dog wanted outside. He opened the door to let her out and she was halfway out the door when I said to him "aren't you going to take her with you?" and bam! She immediately turned right back around and sat down in front of my husband, smiling away as if to say "well? Do I get to go with or not?" And yes, she went with him! She's only 2 years old now and we know we could never, ever adopt any other breed other than Aussie! They're awesome!

• United States
7 Apr 07
We have an English Bulldog and I cannot imagine ever having another kind of dog. She is part of the family and is a great dog with our kids and everyone she meets. Very loveable and of course spoiled rotten. My wife's parents have a Golden Retriever and he is awesome too.

•
7 Apr 07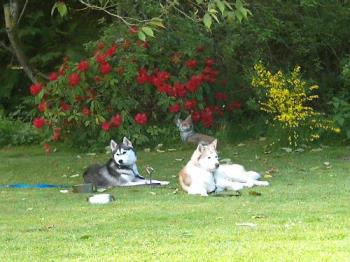 We have 2 Siberian Huskies. We love them to bits. The only thing with huskies is you can never let them off leash. You can train them, but it is up to them as to whether or not they will listen to you. They can be very stubborn.