I just got my ear pierced, do you have suggestions on how to take care of it?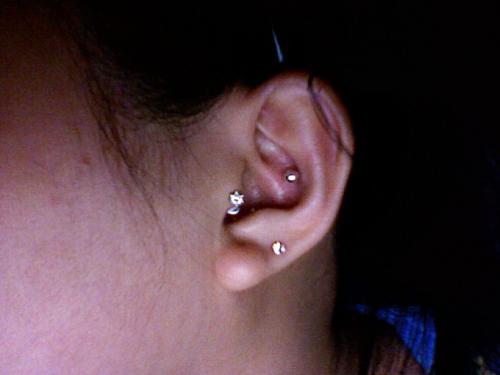 Philippines
2 responses

•
7 Apr 07
The best way to take care of an ear piercing is this: Twice a day, get some salt water, and dab it on the front and back of the ear. Don't remove the earring. This will wash off dried blood, and keep it clean. Ointment isn't a good idea, as it will clog up the piercing, and using salt water will also avoid sensitivity to the pierced area, and toughen it up a bit. After bathing the ear as above, turn the stud as though you were winding up a watch. This will stop the earring from sticking, and help the hole to heal cleanly. If this loosens dried blood and/or pus, bathe it again. Keep doing this for 4-8 weeks at least. Don't remove the earring for 4-8 weeks, and then when you remove it, bathe the ear again, and clean the earring. Straight away, put in a gold or sterling silver post-style or sleeper earring, not a wire one - the hole isn't strong enough at this stage, and is also liable to become infected. If the ear does become infected, go back to bathing it. You'll want to go back to wearing the original earring whilst you sleep, and if you get an infection. After about 12 weeks you should be able to wear other types of earring, although everyone's different, and some people who have sensitive ears need to limit the length of time they wear those types of earring for.

•
8 Apr 07
Just get a cup of water, and stir in 1 or 2 teaspoonfuls of table salt until it dissolves. You don't have to be too precise, and it's just to make it antiseptic and sterile, as well as the toughening up of the hole. Glad I could help!


• United States
11 Apr 07
Don't take the jewelry out by any means. Also, try a saline solution for cleaning it, u can get this in a spray. when you clean it be sure to twist the posts around good. good luck with your new piercing!