Broccoli Cheese Soup

United States
April 7, 2007 1:58pm CST
2 pkgs frozen chopped broccoli 1 chicken bouillion cube 1 onion 1/2 stick butter 3 cans cream of mushroom soup 3 soup cans of milk 1 block Jalapeno Pepper jack cheese, grated Cook broccoli with bouillion cube. Saute onion in butter. Pour soup and milk in large pan, add cheese and stir until melted. Add remaining ingredients. Cook on low for 10 minutes, stirring to prevent scorching.
4 responses

• United States
24 Apr 07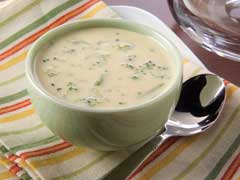 Creamy Broccoli Soup Prep Time: 15 min Total Time: 30 min Makes: 6 servings, 3/4 cup each 1/4 cup chopped onion 1 Tbsp. butter or margarine 1 Tbsp. flour 2 cups milk 4 oz. (1/2 of 8-oz. pkg.) PHILADELPHIA Cream Cheese, cubed 8 oz. (1/2 lb.) VELVEETA Pasteurized Prepared Cheese Product, cut up 1 pkg. (10 oz.) frozen chopped broccoli, cooked, drained 1/4 tsp. ground nutmeg 1/8 tsp. pepper COOK and stir onion in butter in 2-quart saucepan on medium-high heat until tender. Reduce heat to medium. ADD milk and cream cheese; cook until cream cheese is melted, stirring frequently. STIR in remaining ingredients; cook until heated through, stirring occasionally. TIPS Substitute Prepare as directed, using VELVEETA Made With 2% Milk Reduced Fat Pasteurized Prepared Cheese Product. Substitute Substitute 1 pkg. (10 oz.) frozen chopped spinach; frozen cauliflower, chopped; or frozen asparagus spears, chopped; for the broccoli. 2) BROCCOLI SOUP Serving Size : 6 Preparation Time :0:20 Categories : 0-5G Low Carb Soup Vegie Egg Cheese Ingredient -- Preparation Method 1/4 cup chopped onion 1 tbsp butter 1 pkg cream cheese -- (8 oz) cubed 1 cup cream 1 chicken bouillon cube 1 1/2 cups boiling water 5/8 lb frozen chopped broccoli -- 345gr cooked and drained 1/2 tsp lemon juice 1/2 tsp salt 1 dash pepper Slivered toasted almonds -- optional Sauté onion in butter. Add cream cheese and cream. Stir over low heat until cream cheese is melted. Dissolve bouillon in boiling water; add to cream cheese mixture. Stir in broccoli, lemon juice and seasonings; heat thoroughly. Top each serving with nuts. Nutrition value Per Serving (excluding unknown items): 266 Calories; 26g Fat (84.1% calories from fat); 5g Protein; 5g Carbohydrate; 2g Dietary Fiber; 83mg Cholesterol; 463mg Sodium. Exchanges: 0 Grain(Starch); 1/2 Lean Meat; 1/2 Vegetable; 0 Fruit; 5 Fat.

• United States
25 Apr 07
Thanks for this recipe. It is a bit different from mine, but looks good as well. I especially like that fat and calorie content that you added.


• United States
25 Apr 07
It is not my favorite, but it is so good for you that I'm always looking for ways to doctor it up so that me and my husband will eat it. My daughter loves it.


• United States
10 Apr 07
Yes, it is very good, and very easy. I make it alot in the winter time.


• United States
7 Apr 07
We do this alot on the weekends. My children enjoy it with corn muffins. But sometimes I do it with Grilled Ham and Cheese Sandwiches. It makes a quick and light supper.