Do you believe in the paranormal?

United States
2 responses

• United States
11 Apr 07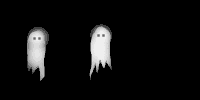 yes i do, i ama member of a paranormal group and have seen lots of weird unexplainable things my whole life, have lots of weird things on tape, video and film

• United States
7 Apr 07
I think there's too much 'evidence' for me not to believe in it. I can't say I've really had many 'personal experiences', but I've known others who have, including my own father, who told of dealing with "spirits" in his younger years by sitting a group around a table, hands flat on the table, and somehow the table starts walking and bouncing up and down without anyone lifting it. He would never do it when I was growing up, because he had stopped it when he decided he might be dealing with "evil demons". I believe there are other 'realms' and even other 'beings'...but with completely different manifestations than what we're accustomed to with the "normal".