What's your cat's name?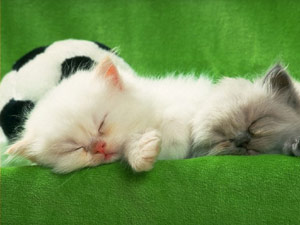 China
10 responses

• Australia
9 Apr 07
I have a Russian Blue called lily-rose and a Russian white called Aria.

• China
9 Apr 07
I have two cats,one is a white cat,his name is greensun;the other is a yellow one,her name is yellowmoon,i love them very.If you have time,welcome to mylot.My Chinese friend!My MSN:greensun1983
@hotmail
.com

• United States
8 Apr 07
my cat is gray and named Cinder...she has beautiful blue eyes

• Philippines
8 Apr 07
i have two female cats... they are sisters and their coats are white and orange... i called them Kitty and Mimi, like Hello Kitty and Hello Mimi of Sanrio...

•
8 Apr 07
i have 5 cats, 3 males and two females and they are called gizmo, holly, chloe, felix and tiny.

• United States
8 Apr 07
I have five cats. The oldest, 13 years old, is Katrinko. Everyone asks me if it's a Russian name. It's actually made up. When we got him, we were told he was a she. We didn't think to look at his back end. I was an ice skating fan, so we named her Katarina. Months later, we discovered Katarina was a boy. He still answered to "Kat" so I wanted to keep that part of his name. Kiddingly, I suggested Katrinko, and the name stuck. We have a 17 lb orange tabby named Karamel. Felix, a black and white mouser. Gatsby and Daisy, named after characters in one of my favorite books, THE GREAT GATSBY. Thanks for asking.

• United States
8 Apr 07
Unfortunately my cats have all gone to cat heaven now but I had one that was white, a Persian Himalayan that was so fuzzy and had blue eyes. I named him Fuzzball. He was so pretty but oh my, what a very mean boy he was. He liked to hide around the corners in the house and he would slap the legs of people who passed him by. He did not do that to me after the first time but he always did it with my daughter and husband. It was kind of funny. Another cat I got from my grandmother. She was going to drown him in the river or dump him in the fields so I took him home and named him Daniel. He was a sweet boy. Another cat just adopted us. He showed up at our front door and visited with my daughter as she played outside. She begged to keep him and I finally said yes. I named him Joseph. He had a weird crooked tail that felt like it had been broken when he was a kitten or maybe he was born that way. A friend was moving out of town and she gave her cat to us and the cat adopted my daughter. I have never seen a one person cat that ONLY wanted one person all the time but this one only wanted my daughter and didn't give a zip about anyone or anything else. Her name was Pepita. Those are the sweet kitties that we've had and I miss them sometimes. We will be getting another cat someday when the time is right.

• United States
8 Apr 07
My cats is a pure white persian with one blue eye and one yellow eye. Me and my mom call her diff. things because we dont like eachothers name for her lol. I called her Adiana, my mom calls her Sweet Pea.

• United States
8 Apr 07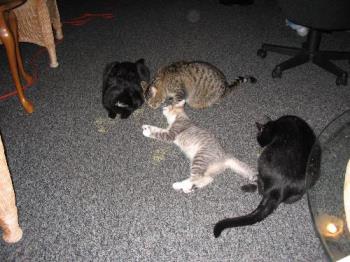 I have 4 cats oldest one is all black and 8 years old and I call her shadow got her when she was a baby.,Then when I was living in another town my husband say two cats outside in the back by an old shed one winter night and they were very young probably couple months old so he brought them to the house and they were very afraid so I had him bring one in the house that is my 4 year old now tiger she was so hungry so I made him bring the other one in also which was also a all black one,and I call that one midnight. all girl cats, then my stepson decided he needed a cat a year ago and brought home a baby real light colored tiger stripped one and I call that one serenity for the stepson wouldn't take care of it so I brought her to my house and she is now my baby... all are fixed and declawed but the little one.they are precious and like my kids spoiled wrotten..

• United States
8 Apr 07
My cat's name is Sammie she is 10 years old or she will be in June of this year. She is the one on my picture. I just got a new cat Her offical name is Alice. I am thinking of naming her Allie or alley cat.