Anyone seen Pursuit to Happyness Movie?

Philippines
April 9, 2007 5:14am CST
Have you seen Pursuit to Happyness Movie by Sill Smith and his son..IT MADE ME CRY! its not fancy, its really real! it can happen to anyone and its happening to a lot of people out there...
3 responses

• China
18 Jun 07
The seem here ,I like it very much.it makes me cry too

• Philippines
20 Jun 07
i watched it 6 times already on the net! i still makes me cry!!!

• Philippines
4 May 07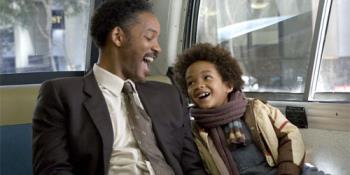 aawww.. it's really a good movie. i didn't really cry. well, i stopped myself from crying because my siblings were already teasing me. but it was a really good movie.. i failed to write a review about it in my blog.. maybe this weekend. - barn kinney http://barncogitations.blogdrive.com/ http://barncogitations.blogspot.com/

• Philippines
4 May 07
really? ik write a review on it and ill check it..thanks!

• India
9 Apr 07
Hi friend!! I ve been to Pursuit of Happines.. it made me cry too.. I watched it twice and felt the same.. The way Will Smith acted is amazing..I bet this movie will win an award..I have no words to describe this movie..

• Philippines
3 May 07
i agree! really a very inspiring movie there! ive also read on previuos thread of your favorite actor is will smith.. were the same! thanks a lot!