CATS are the new DOGS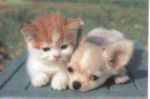 India
April 9, 2007 6:52am CST
It's all about low maintainance these days and with ever increasing pace who wants the hassle of looking after something or someone more than we would look after ourselves. an increasingly popular solution for today's youth is therefore, a cat. however, i just would not compromise with dogs at any cost , what about you?? MEOW Vs BOW dogs need to be taken for regular walks, cats don't. unlike dogs, cats don't demand our attention and they like attention in small doses. Cats can amuse themslves ans spend hours to their own, whereas dogs need love and attention.
6 responses


• India
10 Apr 07
good point, i really appreciate. i feel, pets are good stress buster and with today's increasing pace most ppl need them to make up the mental wear and tear.

•
12 Apr 07
Ouch, they're both so different and so lovable, my dog is my favourite person in the world and my cat isn't far behind. If I had to choose I'd not be able to, my cat will walk down the lane with me but not crossthe road to go on her newty-dogs walks, they are really good friends and often curl up together. They are so different and so loving in their own ways, I think kids should be brought up with both if I'm honest - I love all animals, my dad has a fantastic rabbit too, lol.

• India
18 Apr 07
i bet you love all animals and that makes them love you aswell. it's because of the the kind of person you are, accomodating, caring, lovable and sweet.

• Canada
10 Apr 07
Dogs have masters, cats have staff. I love my dog and my cat both dearly. Although, I love the fact that my cat can be left alone for a night or two with no problems, I love the interaction I get with my dog going for walks or cuddling, etc. They both have their pros and cons. I'm a really big dog person, though.

• United States
9 Apr 07
I have four cats and one dog, and have to say that I like each for different reasons. We had a dog when I was little, but our neighbors had a couple of cats that would come around to our house so I learned to like cats, as well. It would be difficult for me to contemplate not having either type of pet around.

• India
10 Apr 07
that's very sweet of you. you have big heart. i guess, you would have accomodated a lion or even a cobra!! LOL


• Australia
9 Apr 07
Hi Mimpi. I can't live without my doggies! I love the way they need the attention and the looking after. Cat's don't have owners - cat's own! As the saying goes. I also have 2 cats who are very self-sufficient, but If I had to choose, it'd be my dogs! LOL A hard choice though.

• India
10 Apr 07
for me, its no hard choice. it gotta be DOGS no matter what.