do you eat breakfast when u r busy?

China
April 10, 2007 3:05am CST
hey, do you eat your breakfast when you are in a hurry, that is , when you are getting up late, and you do not have enough time to brush your teeth, would you care you are still not having your breakfast? a lot of researches have been done that a day without breakfast can be harmful to our physical body? i am busy, but i try to have my breakfast each day? so how about you guys?
6 responses

• Singapore
11 Apr 07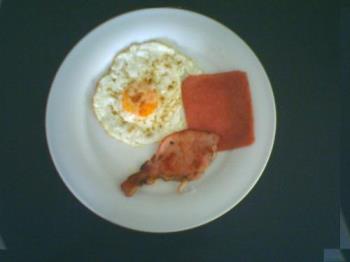 Even I am busy, I still need to have my breakfast, else I could not start the day. On weekday, I am always rushing to send the kids to school and getting to work. And breakfast is just sandwich that I grab from the company cafeteria. On Weekend, time is with me and I will cooked my family favorite breakfast, Sunny side up egg, bacon, ham and bake bean and with a cup of freshly brew coffee. All will sit down and enjoy the breakfast.

• China
11 Apr 07
wow, u ask us to add a comment to your response. cool. i thought i wouldn''t answer your questions and respond to you. but what ever i am doing it now.......

•
11 Apr 07
To be honest, it's not because I don't have time, it's because usually I don't have the stomach for breakfast for at least 2 - 3 hours after I get up. When I'm staying in hotels (which is quite often) I do have breakfast after about 1 hour but always end up feeling bloated for hours. It's never done me any harm and I've not been eating breakfast for many years now.


• Cebu City, Philippines
10 Apr 07
No matter how busy I may seem I can still eat my oatmeal breakfast at the ofice. I have hot water a few spoons of oatmeal and a few spoons of chocolate drink and alas! i already have my instant breakfast. I cant stand to skip my breakfast since its the very important meal of the day.

• India
10 Apr 07
yes i always eat my breakfast for the following reasons 1.skipping breakfast is very very dangerous and leads to several health hazards in the long run 2. I will get a headache if i am hungry even if i am busy and miss my breakfast. 3. I cant work or concentrate if i miss my breakfast 4. I will be wasting the whole day unprodductively for sure if i miss my breakfast

• Indonesia
10 Apr 07
I seldom have breakfast, and if I'm really hungry before lunch time, I will eat snack in the office. Maybe you can buy bread in the street when you are going to office, so you still can have breakfast. Expert said breakfast is important to start our day, specially if you are in diet.