I am anxious to hop on my bike again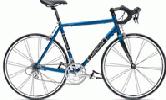 Canada
April 10, 2007 8:50am CST
With the nice weather coming back, I am really anxious to hop on my bike again. We are lucky in Montreal since we have an important network of bike paths. Some of these paths go through beautiful parks near some lakes or near the St-Lawrence river, others go through the city, which makes them particularly dangerous. Besides the health benefits of cycling, this hobby allows me to discover new beautiful areas in the Montreal region. I bought a nice bike 2 years ago that allowed me to cycle for longer distances. I generally take my camera with me whenever I go out cycling. This way, I can take pictures of the splendid landscapes. I generally go for 50 Km rides, with one 90 Km ride per week. My longest ride was 125 Km. I am planning to break this record this season, but I will need some training before being able to do so. Do you enjoy cycling? If so, why do you cycle? What is the brand name of your bike? Mine is a Lemond tourmalet (pictured below)? Do you go for long ride or just for shorter ones?
3 responses

• United States
10 Apr 07
The scenery sounds wonderful up there. I can only imagine how beautiful it is. Down here in the deep south, it's also very beautiful. There is limited bike trails, but if you live in the country, as we do, there are some beautiful rides easily found. I just do short distances right now, I'm trying to work on longer distances.

• Canada
11 Apr 07
You are lucky to live in the country, you must have a great scenery right in front of your door.

• United States
10 Apr 07
Yes, I enjoy cycling. I do it for my health. Normally, I do not ride over about 16 miles at a time. That's the distance to and from the Wal-Mart. I combine exercise with the practicality of picking up a few items we need around the house. My road bike is a $10 special I found for sale on the side of the road. It is about a 1970's 10 speed. It's a little rusty, but with new tires and some lubrication here and there along with a new seat, it does the job. I still do not understand at all why some people pay enough for a bicycle to buy a nice used car.

• Canada
11 Apr 07
I agree that some people are fanatics when it comes to cycling. I paid $700 for mine as it was a used one, but in very good conditions. Some people spend $5000+ every year on a new bike, but again some of these people cycle for 10000Km per season. My former bike was cheap, but I could not go that far with it, it was very heavy.


• Canada
10 Apr 07
I think than one enjoys much more the scenery when riding a car than when driving a car. There are many places where you can rent a bike in Montreal for a few hours. There one place that offers this service in the old port.