Mayo or miracle whip

United States
April 10, 2007 10:33am CST
Sorry but I honestly beleive that a sandwich truely isn't a sandwich with out miraclewhip. But my husband will not eat a sandwich unless it is made with mayo. So I buy both, Just like we buy both Pepsi (for him.) and coke for me..... What do you prefer?
6 responses

• United States
10 Apr 07
I like miracle whip on sandwiches, but not in things like deviled eggs. There's more that we use mayo for, so that's usually all we have on hand. If we know we'll be eating a lot of sandwiches I'll get some MW, but otherwise it just takes up more room in the fridge.

• United States
10 Apr 07
Ugh, plain mayo for me. I also tend to buy one of my local store brands over any national brand. Most of those are sweetened, usually with high fructose corn syrup. I'm not a big mayo fan to begin with, but, if I'm going to use it, it can't be sweet.

• Ireland
10 Apr 07
I love my mayo on sandwiches. A sandwich has to have it otherwise it tastes so dry. We do the same with bread. I love my white bread, he loves brown, so we buy both. lol


• United States
11 Apr 07
I hate Miraclewhip. I don't like the sweetness of it. When I was with my ex he liked so I did the same as you and bought both. Now it is only Best Foods mayo in my fridge, along with the Pepsi. lol.

• India
10 Apr 07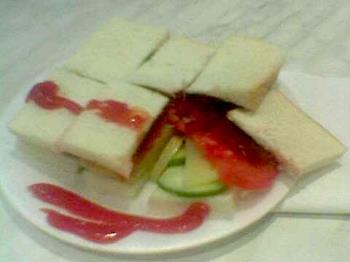 I have no idea about what miraclewhip and mayo is. May be I am sounding strange to you but this is truth. Sandwitches are made by diffrent style in India and yes they also taste very good. Vegetable sandwich is the most common type of sandwich in India. It is a purely vegetarian item (though not vegan if butter is used), and is often seen prepared and served fresh by roadside vendors as well as in many restaurants. It consists of vegetable filling between two slices of white bread. The most commonly used vegetables for this sandwich are the tomato, the cucumber and the potato. Other vegetables used include beetroot and onion. Potatoes are boiled well in advance, and peeled prior to assembly. The tomatoes, cucumbers, potatoes and other ingredient vegetables are cut into thin slices and stacked between two slices of white bread that have been spread with butter and spicy green chutney on the inner sides. This sandwich is then toasted in a sandwich toaster (or in the case of roadside vendors, in toasting tongs over a portable gas stove). After toasting, the sandwich is cut into six rectangular pieces, and its top side is slathered once more with butter and chutney. Finally, tomato ketchup may be squirted onto the top of the sandwich. Cheese may be added, if available, and the sandwich is usually open to customization by adding or withholding certain ingredients, or leaving it untoasted. I love thumbups more than coke and pepsi . Thumbups is a coke product )