Wall hanging of " I can do .... " for children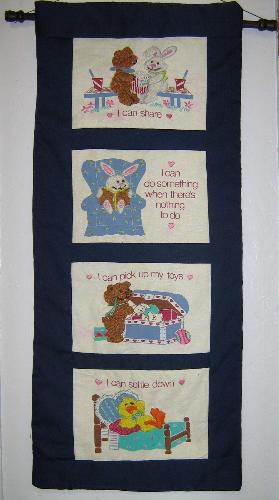 Canada
April 10, 2007 9:01pm CST
I started a set of crewel pictures that I got in a kit from Creative Circle several years back. (A company that went out of business in 1992.) So I guess it was more than a few years since I bought the kit. Anyway the pictures got packed away and I didn't finish them.I dug them out recently and a friend kndly offered to finish them for me. They were meant to be matted and framed but I didn't want to spend that kind of money on them. This evening I decided to put them in a wall hanging . I was quite pleased with the results. You might notice a bit of pink in the fabric of some of the pictures. Unfortunately the dye ran from the floss. However, I am going to give these to my young niece Jessica. She is 18 months old . They will be for a late Easter gift and I know she will like them.
6 responses

• United States
11 Apr 07
Hey, this is a familiar post. Didn't I read this somewhere else? LoL! You shouldn't spoil your niece too much. The next thing you know, she'll want a car.

• Canada
11 Apr 07
Yes ,you just commented on it this evening . The first post lacked the picture, which defeats spoils the whole point of the post. I wanted to show you my wall hanging . I am hoping Mylot will delete it for me since I can't delete it myself .

• United States
14 Apr 07
This wall hanging is really nice, I am sure as Jessica grows older she will cherish it. I have some of those very old kits of needlework around. The aging doesn't seem to have hurt them any. I have also bought some at yard sales, some partially finished, some never opened. Some of the kits I finish as intended, others I finish in a different way.

• United States
14 Apr 07
I love it. You are just so talented. How do you do all this stuff. I am glad that you posted picture of it. That makes the post so much better.

• Canada
12 Apr 07
This is a master piece in my opinion! I absolutely love this. If this were done any differently it wouldn't of been as nice! Jessica will love this for many years to come and maybe even save it for her own children one day! What an amazing gift to be able to give to your family!

• Canada
11 Apr 07
That is so sweet. I'm sure your neice will love and cherish it for years to come. Thanks for reposting to so we could all see what you were talking about. It's lovely

• Canada
11 Apr 07
I"m sure that Jessica will like them:) I did more or less the same thing for my kids when they were small. I had this old comforters that had really pretty pictures and I changed them a bit and turned them into wall hangings. My daughter still talks about it, she says she loved to go to sleep looking at them:)