New Linkin Park cd + vote for their video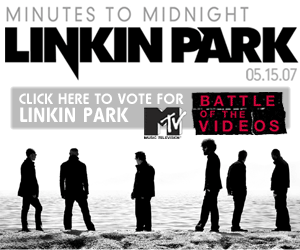 United States
April 10, 2007 11:27pm CST
Hey everyone! I have seen quite a few topics around here about Linkin Park so I know there are some other fans out there. :) I just wanted to spread the word about their new album. It's called Minutes to Midnight and it will be released on May 15th. The first single off the album is clled "What I've Done" and you can listen to the song and watch the video at this url. http://www.lpstreetteam.com/CDA5240F87574D8387EBDE8FEC733210/tracklink.asp?guid=BC2ABF4A51554272864B9D51E2DFF1B9 There is also a video contest thing that MTV is doing so if you like LP and their video please go to the url and vote r it. They are pretty behind right now and the voting ends soon. So go give them a little support! By the way, if you are reading this and don't know LP or just don't like them. Please just check out their new song. I have had a few people who weren't really fans say it was really good. Plus LP are really changing their sound on this new album and you might want to give it a chance. ;) http://www.lpstreetteam.com/CDA5240F87574D8387EBDE8FEC733210/tracklink.asp?guid=BC2ABF4A51554272864B9D51E2DFF1B9 Whew, that was long. My apologies. I'm a huge fan. ;)
8 responses

• United States
11 Apr 07
Erm, I'm not really into Linkin Park anymore, but I suppose I can check it out. It seems that they lose a little bit more with each new album.

•
13 Apr 07
I love linkin park! If that link doesn't work try http://www.youtube.com/watch?v=8sgycukafqQ

• United States
12 Apr 07
COOL! Thanks for this info. I just viewed the video and voted. I can't wait to get the new CD. I love LP! New tunes from them is LONG overdue!

• India
12 Apr 07
yeah, you acyually right. linkin park rocks! i am eagerly waiting for their new album to be launched, 14th of may, right? and yeah the song what i've done is actually great. besides the song, the message is great as well. i am glad they are doing work to spread awareness around the world about what's right and what's not and that we should get back on the right track.


• Pakistan
11 Apr 07
Well,I've got one video song from their album,song name is: " WHAT I'VE DONE " its really quiet cool song and it is very different song from the Linkin Park genre.Its not Hard-Rock but its a Rocking Song with Heavy Metal ;) LinKin ParK RuleZ forever and their upcoming album will be a master blaster as of their previous albums were.The album name " Minutes To Midnight " is such a nice name but anyone can tellme what does the album name refer to? Or is their any song named with it?

• Indonesia
11 Apr 07
Yaay, a new Linkin Park Album. Just saw the video clip yesterday at MTV Indonesia, a little late perhaps. But it's cool. Glad they aren't broken apart. And now it's time for us LP fans to unite and vote for them! Let's go, bring Linkin Park to their throne again!!


• United States
13 Apr 07
I think it is great that they are coming out with a new CD, I think the reason it took so long is because of all the things Mike S. was doing on his own(like fort minor) and I am so excieted to get this CD! It's about time they brought some new things out!! I also just wanted to let you know that for some reason the links you have posted aren't working for me. Thanks for all the new info. on Linkin Park;)

• United States
13 Apr 07
Now they work! I'm sorry:) Very neat sites, I voted and read up on the clock. Thank you so much for all this information!